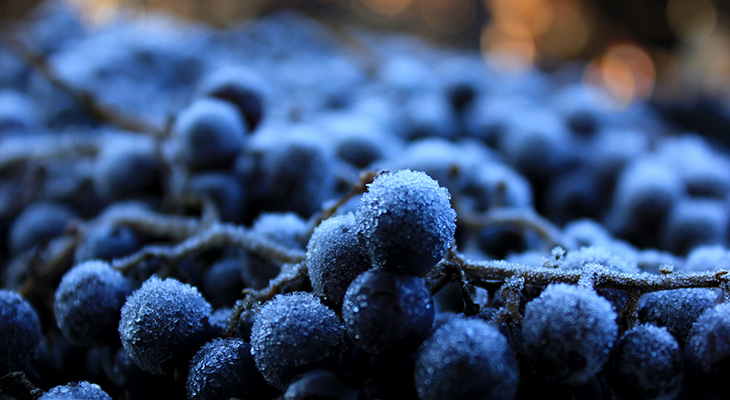 By Joel Shurkin, Inside Science — Wine grapes specially bred for extreme temperatures may have a future, despite any laughs connoisseurs might have at the thought of wine labels extolling the virtues of the terroir of Deadwood or Fargo.
A grape-breeding project that already has pumped more than $400 million into northern states' economies and created as many as 13,000 jobs is trying to grow wine grapes where summers are short and winters brutal. Scientists who are breeding the grapes say the wine is improving every year.
Next week, the Minnesota Grape Growers Association and the University of Minnesota in St. Paul will hold the 7th annual International Cold Climate Wine Competition and show off their best products.
The researchers are part of the Northern Grapes Project, founded in 2011 and funded by the U.S. Department of Agriculture. Universities and labs in twelve states ranging from New York through New England and the upper Midwest are involved.
Three thousand new vineyards have been planted across the dozen states, said Anne Fennell, one of the researchers and a professor of plant sciences at South Dakota State University in Brookings. Many growers in the region began cultivating wine grapes as a hobby.
Fennell said there are 30 species of native grapes in North America, but none that produce drinkable wines. All the grapes that do, including the cabernets and pinot noirs of California, Oregon and Washington, were imported from Europe, beginning in the 18th century.
While places such as California's Napa Valley and Oregon's Willamette Valley have climates and soils in which lush wine grapes thrive, much of the U.S. has more extreme weather, with very cold winters and short growing seasons.
The pinot noir of Burgundy and the cabernet sauvignon of Bordeaux cannot survive in those extremes. Pinot noir takes about 135 days from first bud to harvest, according to Yves Tourre, adjunct senior research scientist at the Lamont-Doherty Earth Observatory in Palisades, N.Y., who studies the effect of climate on biological organisms.
Many places in North America cannot provide that many days of suitable conditions. Brookings, where Fennell works, has a growing season of 111 days.
The intensity of the sun is adequate, but the great European grapes wouldn't be ready for harvest until October, she said. By that time, much of northern North America already has seen frost or worse.
Temperature extremes are another problem, Fennell said. If ice forms between the cells of the vine, the vine will die, another reason classical grapes can't be planted in this region.
About 1,000 years ago in England, during the Middle Ages, there was a period of relatively warm weather that supported wine grapes. But as the climate changed and the weather got cooler, it no longer became possible to grow good wine grapes there. With the modern climate now warming, there are about 500 vineyards in England and Wales, and new ones starting regularly.
The American scientists are creating new complex hybrids by combining vitis vinifera -- the scientific name for the classic European-American wine grapes -- with the most common cold-resistant North American grape species, vitis riparia.
"It is a black grape, a very strong color but highly disease resistant," she said. "We are specifically using it to produce cold tolerance."
Other cold-resistant grapes also fail to impress. "Some will burn your tongue right out," she said.
The scientists use a combination of cross-pollination and cloning to produce new varieties and then they often use grafting to add beneficial traits like weather resistance and fruit characteristics. Typically, the riparia provides rootstock, onto which is grafted a piece of a grape plant suitable for making wine. This is a standard way of interbreeding fruit, said Matt Clark, assistant professor of horticulture at the University of Minnesota Twin Cities. The combination of the right riparia with a wine cultivar produces grapes that can withstand the climate.
Since the 1980s, much of that breeding work has been done at the University of Minnesota. Scientists there have developed and patented several varieties, or cultivars, including Frontenac and Marquette, both reds, and La Crescent, a white, both in wide use.
Dave and Sue Greenlee, of Garretson, South Dakota, grow many of the Minnesota grapes as well as those developed by the late Elmer Swernson, a well-known grape breeder from Wisconsin. They now grow reds and whites on six of their 66 acres. Now retired, it's become their day job.
They are living on savings now, but "my wife and I can see the time when we can do more than break even," he said.
Cold grape growers such as the Greenlees have a marketing problem. The idea of drinking a South Dakota vintage does not occur often outside the area. Indeed almost all the wine is sold locally, often at the farm or vineyard. But they would love to expand the market.
Last year, the Northern Grape Project held a wine tasting at a hotel in Singapore. Subjects were divided into three groups: one did not know where the wine came from; one group that did, and a third group knew the origin but was given more information about the wines.
Those who didn't know they were drinking Iowa and Wisconsin wines rated them higher than similar South African, German, Spanish and Argentinian wines. Those who knew rated them lower. Ratings improved for the cold weather wines with the third group, who had been educated about them. Perception mattered.
Region makes a difference in taste as well, Clark said. Iowans tend to like their wine sweetish, while people in the Twin Cities tend to like it drier in the European mode.
Being so new, the industry still has much to learn, Clark said. It's not known, for instance, if cold-climate red wines will improve with age as classic wines do. They seem to, he said. It also isn't known if using oak barrels will improve the wine.
"Growers are certainly interested in those techniques," Clark said, "including marketing."
Joel Shurkin is a freelance writer based in Baltimore. He is the author of nine books on science and the history of science, and has taught science journalism at Stanford University, UC Santa Cruz and the University of Alaska Fairbanks. He tweets at @shurkin. Reprinted with permission from Inside Science, an editorially independent news product of the American Institute of Physics, a nonprofit organization dedicated to advancing, promoting and serving the physical sciences. Image: Merve illeux via flickr, CC