It may not seem intuitive that virtual reality can impact the real world environment but it's been shown to have a great deal of leverage in the UK, namely as a principal mechanism for stimulating support for wind farms.
SEE3D, part of the University of Wales, has worked with renewable energy company West Coast Energy to develop visualization software that will help fast track wind farm planning approvals. The new technology is being used in public consultations and as an inherent element in the planning approval process which allows local residents and councillors to tour proposed plans within a 3-D world, enabling them to control their movements and direction.
Built to scale, the worlds create a true representation of the local community and can have a radius of 30 miles from the proposed wind farm.. Once in the virtual worlds residents can actually look out of their homes to see if they can see the proposed wind farm; they can walk out of their doors and along roads to see if, the wind farm was built, what impact it would have on their views.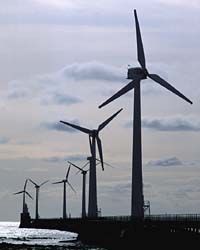 SEE3D has created virtual worlds where local officials have been flown on an aeroplane over a proposed site and driven in a car along the main road enabling them to see what the wind farm would look like from different vantage points.
Currently in the UK around two-thirds of planning applications for wind farms are rejected. Concerns over the impact wind farms will have on local residents views and their impact on the natural landscape have been key causes for concern which has prevented applications being passed.
With so many applications failing and yet a clear focus on renewable energy in plans to cut emissions, it has become clear that local engagement is essential if proposals are to be passed.
By harnessing this new technology SEE3D will be able to show residents as they tour through the worlds - walking up hills, through lanes and along roads - that actually the view they will have of the wind farm is actually one where it cannot be seen.
Source: University of Wales