Using 160 high-resolution tungsten leaves and dramatically faster leaf movement, Elekta's new Agility
multi-leaf collimator (MLC) radiation therapy treatment for cancer patients recently received 510(k) clearance (K121328) from the U.S. Food and Drug Administration (FDA), enabling U.S. medical centers to use it for patients with cancer.


An MLC is device made up of numerous, individual tungsten "leaves," which shape beams of therapeutic radiation that are delivered from different angles around the patient. Using twice the number of leaves typical of many standard MLC's, Agility precisely delivers radiation to the unique contours of the tumor, while reducing the risk of exposure to healthy tissue.

The new Agility MLC also includes ultra-fast leaf movements, twice as fast as other MLCs commonly used in the industry, enabling clinicians to further exploit the most advanced cancer therapies such as stereotactic radiosurgery (SRS), stereotactic radiation therapy (SRT) and Volumetric Modulated Arc Therapy (VMAT). Further, with a new lower radiation leakage design, research has shown Agility can significantly reduce the patient's non-therapeutic radiation exposure as compared to other conventional MLC's.¹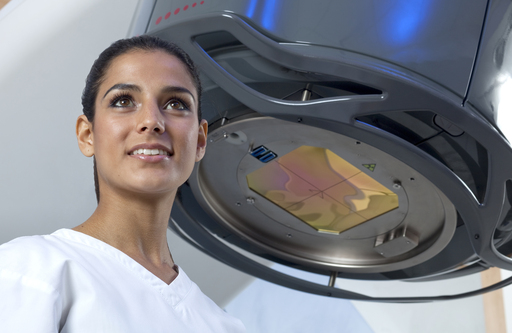 Soon after Elekta received CE marking for Agility, permitting sales of the device in Europe, clinicians began reporting significant gains in beam-shaping ability and delivery speed. Shorter treatment times have resulted in increased patient comfort and convenience, as well as improved the ability for caregivers to treat more patients each day.



¹ Cosgrove, VP, Thompson, C, Chrisophides, D et al. (2009) Physical characterization of a new concept design of an Elekta Radiation Head with integrated 160-leaf multi-leaf collimator. Poster presented at ASTRO 2009.