North Carolina farmers and landowners are participating in program to grow giant miscanthus grass for renewable products using underutilized and marginal land.
Giant miscanthus grass is a rapidly renewable biomass crop that provides a viable economic alternative for many farmers and landowners with underutilized and marginal land that might otherwise lay dormant or fail to provide annual profits.
Perennial giant miscanthus grows well under a range of soil and environmental conditions. It requires little to grow and maintain. It's a simple, convenient and profitable crop to raise.
Planting biomass at commercial scale includes solving the significant challenge of establishing rhizome-propagated crops.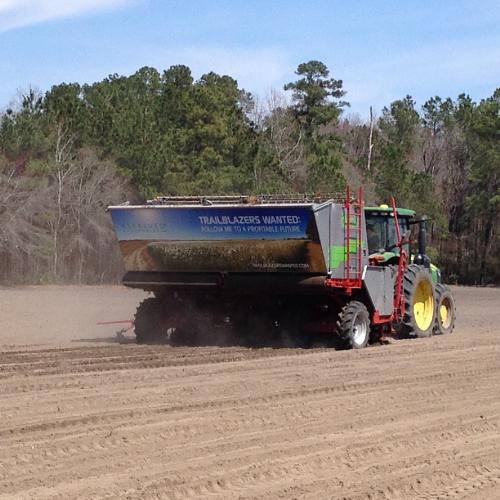 Repreve Renewables Accu Drop planter. Credit: Repreve Renewables, LLC
North Carolina farmers Chris Hester and Ashely Singletary in Bladen County, and Ben Stancill in Pitt County, are among the first to adopt this inventive approach to diversified land management.
"Chris, Ashely and Ben are trailblazers in growing this alternative crop," said Jeff Wheeler, chief executive officer of Repreve Renewables, the company behind the Accu-Yield System, which significantly reduces the risk of growing a new crop while providing other benefits. Environmental benefits include improved soil composition, reduced use of inputs compared to other crops and enhanced soil and water conservation.
Economic benefits come from leveraging underutilized and marginal land for producing a profitable crop.