A
just completed clinical trial
of K.Vita (Betashot), a dietary treatment for children and adults with severe forms of epilepsy, found it was well tolerated and reduced seizures.
The product was developed to offset the risks of the ketogenic diet, which mimics a fasting state by altering the metabolism to use body fat as the primary fuel source. Ketosis is when the body switches from carbohydrates to fat for body fuel.
It has shown some success with drug-resistant epilepsies but the restrictive high-fat, low-carbohydrate diet can cause constipation, low blood sugar, and stomach problems.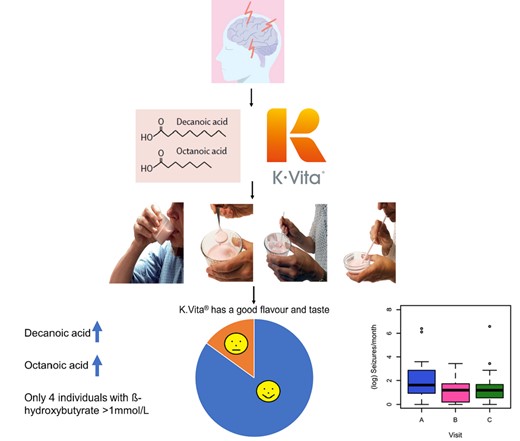 A ketogenic diet has been recommended for 100 years but University College London scientists discovered a different underlying mechanism to explain why the diet is effective for epilepsy and developed this medium chain triglyceride (type of dietary fat) supplement, designed to increase levels of decanoic acid. The pilot was designed to evaluate it for tolerance (side effects such as bloating or cramps) to the treatment, acceptability (flavor, texture, taste) and compliance - how easy it is to use K.Vita at the advised quantity, as part of their daily diet. As secondary outcomes, they also monitored the frequency of epileptic seizures or paroxysmal events (fits, attacks, convulsions) and whether ketone production was decreased.
In total, 35 children (aged 3 to 18) with genetically caused epilepsy and known to be unresponsive to drugs, and 26 adults with drug-resistant epilepsy were given K.Vita liquid supplements (a drink), to be taken with meals. They were also asked to limit high-refined sugary food and beverages from their diets. The trial lasted 12 weeks with K.Vita treatments increasing incrementally over time, taking into account individuals' tolerance to the treatment.
In total, 23/35 (66%) children and 18/26 (69%) adults completed the trial i.e they were continuing to take K.Vita at 12 weeks. Gastrointestinal disturbances were the primary reason for discontinuation, and their incidence decreased over time. Over three-quarters of participants/caregivers reported favorably on sensory attributes, such as taste, texture and appearance, and ease of use.
In regards to the secondary outcomes, there was a mean 50% reduction in seizures or paroxysmal events, and fewer than 10% of people on the diet produced significant ketones.
Larger, controlled studies of K.Vita will be needed to determine the precise epilepsies and conditions in which the supplement is most effective.