Next month, a Microsoft developer, a classical pianist, and a philanthropist for kids' health will compete in the Miss America pageant. And they are all the same person: Allison Farris.
Farris creates and codes apps for Microsoft as a career but next month she is poised to do something with a different kind of elegance. She will represent Washington, D.C. at the Miss America competition on Sept 9, 2018 in Atlantic City, New Jersey, which will be televised on ABC.
Farris, the daughter of Circuit Judge Doug Farris and mother Jane, grew up playing classical piano, and it was music that led her to STEM. By competing in the Miss America pageant, she hopes to accomplish multiple things: encourage young women to enter any areas they want, even if the perception is that they are male-dominated, like software development; creating an additional role model for young girls who participate in Microsoft's DigiGirlz program nationally; and breaking down the left brain-right brain divide that causes artists to worry they can't do math or science. As we often say here, music
is
math.
She's also involved in more direct philanthropy, fundraising for Children's National Medical Center in D.C. She has already raised over $3,000 and has set a goal of raising another $5,000 before leaving for the Miss America competition at the end of the month. During the next year, Farris will travel the country speaking on the importance of young women in STEM fields while also holding down her full time job at Microsoft.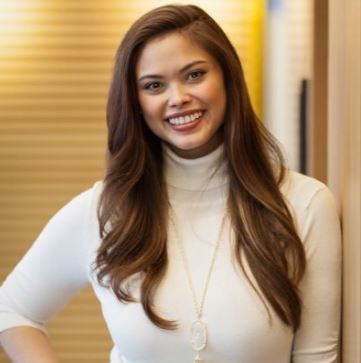 Credit: Allison Farris
Twitter account
.
Farris has already won $10,500 in scholarships competing at the state level, which will help her reach her goal of getting an M.B.A. and becoming a Chief Technology Officer. So when you are ready to retire, Kevin Scott, your replacement may be ready to go.
The new Miss America is slated to win an additional $50,000 scholarship.