In 2016, more than 42,000 Americans died of an opioid-related overdose, which is alarming - but most of those deaths were not accidents by pain patients or suicides, they were recreational drug users.
There are numerous obstacles to making meaningful progress. For one, legitimate pain patients have become more stigmatized - government is blaming doctors and pharmacy rather than drug dealers - and that means people who want to kick their addiction are even more ostracized.
Second, no one gets public condemnation like pregnant women but they can get addicted also. Opioid agonist therapies, like buprenorphine and methadone, have been shown to reduce risk of overdose death, and for pregnant women with opioid use disorder this benefit extends to the baby -- making it more likely the infant will be born at term and with higher birth weights. But American women can't even have a glass of wine without being shamed. That makes treatment for pregnant women less likely to happen, which increases risk.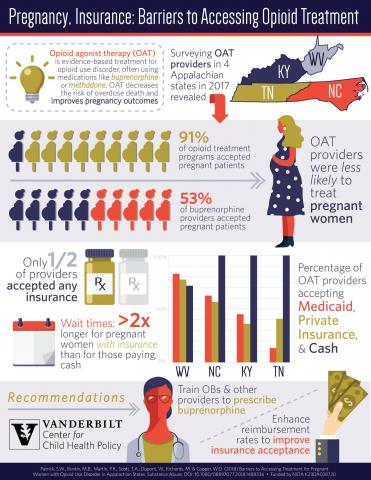 In areas of the country disproportionately affected by the opioid crisis, treatment programs are less likely to accept patients paying through insurance of any type or accept pregnant women.
Courtesy of Department of Health Policy, Vanderbilt University School of Medicine
Finally, there is socioeconomics. While it is true that there is a highly publicized problem among the wealthy, the disadvantaged have fewer options.
In a new analysis
, scholars examined four Appalachian states -Tennessee, Kentucky, North Carolina and West Virginia - that have among the highest rates of opioid use in the country and are more affected by opioid overdose deaths. They conducted a survey of opioid agonist therapy providers, opioid treatment programs that provide methadone and outpatient buprenorphine providers between April and May 2017. The programs and providers were identified from a public listing provided by the Substance Abuse and Mental Health Administration.
Only about 50 percent of opioid treatment providers took any insurance, and there is huge variance among the states in programs that accepted Medicaid. While 83 percent of treatment programs in West Virginia accepted Medicaid insurance, only about 13 percent of programs in Tennessee accepted Medicaid. Additionally, the study found that while 91 percent of programs were accepting new patients, only 53 percent of outpatient buprenorphine would treat pregnant women.
The survey found that cash payments for treatment ranged from $20 to $175 for treatment intakes; $35 to $245 per week for outpatient buprenorphine treatment; and $49 to $160 per week for methadone treatment. Another finding of the study was that when pregnant women are accepted to opioid use disorder treatment programs they had shorter wait times than others with the disorder.