Some controversial claims by epidemiologists with links to anti-meat groups (Frank Hu, Walter Willett, et al.) suggest that a normal human diet containing meat causes inflammation, which they then link to increased risk of heart disease.
A risk factor for a risk factor for a disease isn't very compelling but journalists often confuse hazard, including when epidemiologists use 10,000 doses, and risk, which is actual clinical relevance to people.
A new study
sought to clear up some confusion, using metabolite data in the blood instead of simplistic food surveys that suggest a link to a disease. It is still a cross-sectional analysis so doesn't prove meat can't cause health issues any more than epidemiology can.
Dr. Alexis Wood, associate professor of pediatrics at Baylor College of Medicine and colleagues looked at data of 4,000 older adults participating in the Multi-Ethnic Study of Atherosclerosis (MESA). It relies on food diaries, which are not great, but included an array of dietary intake metabolites in blood. Plasma metabolites can help capture the effects of dietary intake as food is processed, digested and absorbed.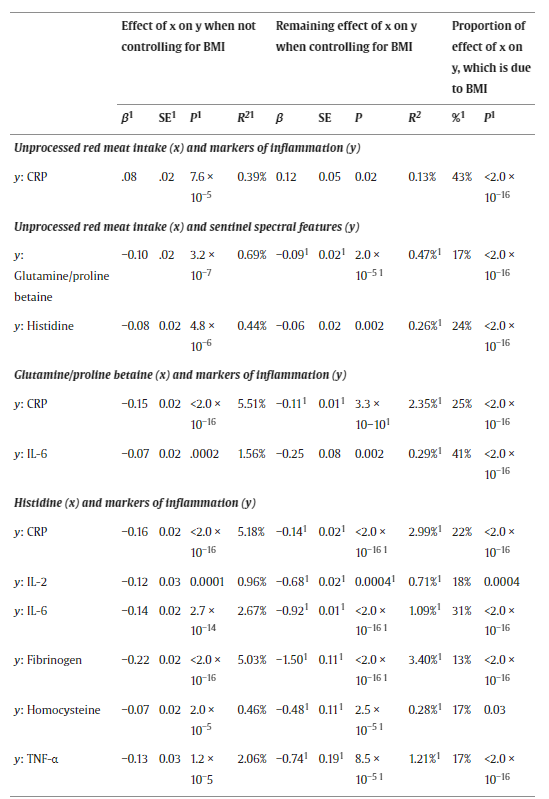 1 are Significant results (P < 0.001, Bonferroni corrected). All models control for age, sex, race/ethnicity, data collection site, smoking status, income level, daily energy intake and physical activity level
.
10.1016/j.ajcnut.2023.08.018
When adjusted for body mass index (BMI), intake of unprocessed and processed red meat (beef, pork or lamb) was not directly associated with any markers of inflammation, suggesting that body weight, not red meat, may be the driver of increased systemic inflammation. Of particular interest was the lack of a link between red meat intake and C-reactive protein (CRP), the major inflammatory risk marker of chronic disease.
"Our analysis adds to the growing body of evidence that indicates the importance of measuring plasma markers, such as metabolites, to track diet and disease risk associations, versus relying on self-reported dietary intake alone," Wood said. "Our analysis does not support previous observational research associations linking red meat intake and inflammation."
BMI is only a population level metric for health, obesity is the big risk factor in a clinical setting. and calories ingested versus burned are all that matter. Anyone who claims the type of food matters is selling something.