It's that time of year again... for Donors Choose!
What is Donor's Choose?
DonorsChoose.org
is an online charity that allows needy classrooms from all over the country hook up with potential donors via the web. Teachers post their wish lists, with photos and descriptions of what they need, and you get to donate to specific projects, so you see exactly where your contribution is going.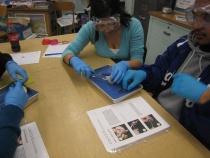 This month there is a Science Bloggers For Students Challenge (10/10/10- 11/09/10), where science bloggers from all over compete to get the most donation wishes filled. I am not hosting my own personal donor page (way too much going on right now),
however
, I am supporting my good friend and fellow psychologist and science writer,
Jason Goldman
, from
The Thoughtful Animal
, in his effort.
From his page:
Every year the science blogging community organizes the "Science
Bloggers for Students challenge", a month-long competition between
science blogs to see which ones can raise the most to help low-income science
classrooms through the DonorsChoose.org website. Through Donors Choose,
teachers can go and make requests for specific supplies or materials
that they otherwise can't afford.
The goal here is to get as many wishes filled as possible for these kids. So please, check out his
page
, and be generous! Every little bit helps to get these low income schools get the supplies they so desperately need.
How does this *amazing* program work? Simple!




Click on the link to the project page




Look over the posted projects, their descriptions, and how much is needed to fund it




Give as much or as little as you want!




Here's another bonus: For each dollar you donate, HP will match it, up to $30,000! Think about how much your contribution will mean to low-income kids all over the US.
Thank you for being a supporter of science education!!
For more detailed info about Donor's Choose, please visit their website:
DonorsChoose.org
.