Last night we attended the "Science of Fine Wines" event in support of the Sacramento Discovery Science&Space Museum.
This was, as you can imagine, not a hard science event. The Museum itself is devoted primarily to helping kids understand science and the attendees were primarily there to drink wine. But when we talked to them about it a 'science of cheese' portion made sense because it lent itself to a hands-on lab.
So we made up a flashy one-page graphic and
Kristina
got
a local dairy
to donate some cheese and off we went. There were two of us plus Dr. Maynard Johnston, who is not a writer but is a wine expert. He said he liked
my write-up
except my use of the term 'moist' wine in one part. Why you can have a dry wine but not a moist one is unclear to me but I am not a drinker.
It was hot. Really hot.
Mike White talked about the frigid temperature in San Francisco during the AAAS meeting
earlier this week and this was just the opposite - about 100 degrees at an outdoor event. Luckily, after 45 minutes the sun went behind the buildings.
We were just there to do science outreach, of course, and the people around us were there to sell their wine, so they didn't necessarily appreciate the cheese and the humor, but the attendees did.
They had a silent auction and I won a romantic Halloween-period cemetary tour (spooky, I know, but scared wife means husband sugar, right?) and we had more cheese than you could stand.
Here are some pics, otherwise there isn't much to report, since I covered the science of our stuff in
The Science of Wine And Cheese
: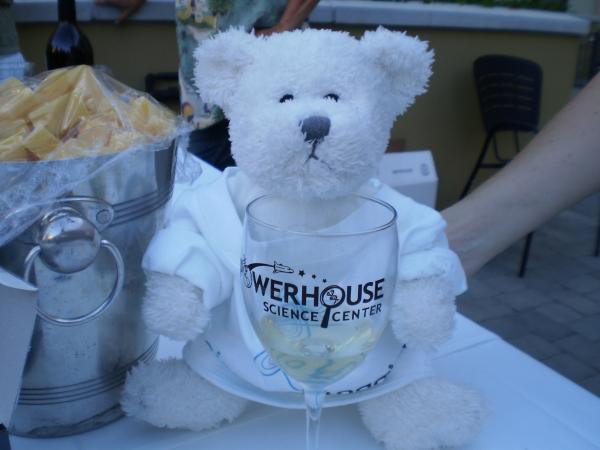 We need our own wine glasses. And we need our own wine. I am working on that second one, actually.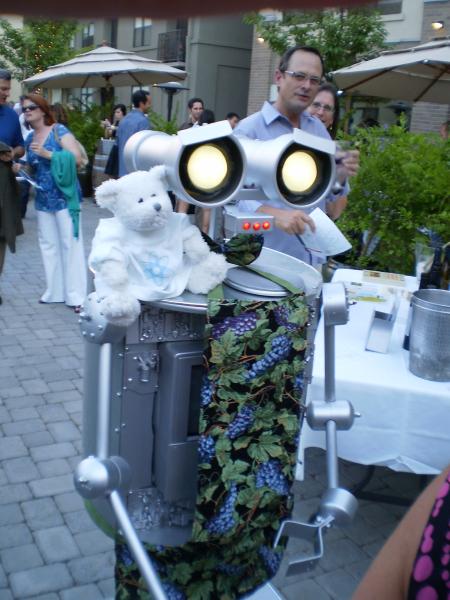 They had a talking robot walking around. I asked him if he might be interested in being our new mascot and Bloggy got all Machiavellian 'keep your enemies closer' about it.
Those of you who know me can tell by the look on my face I am finding a safe place while a lady tells me she only buys raw milk, grass fed cheese because it has molecular superiority over any cheese I could create in a lab. Blame Bush or young-Earth creationists all you want, 'organic' marketing has done more to damage people's knowledge of actual science than both of those combined.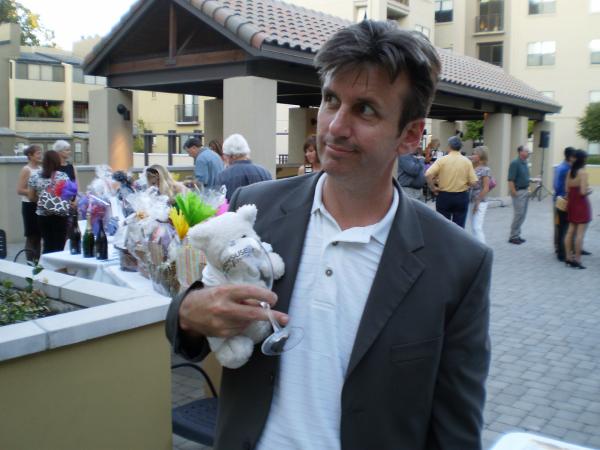 Bloggy was starting to get a little embarrassing. If you've ever been around someone who has an alcohol issue ...

... then you know how the evening ended: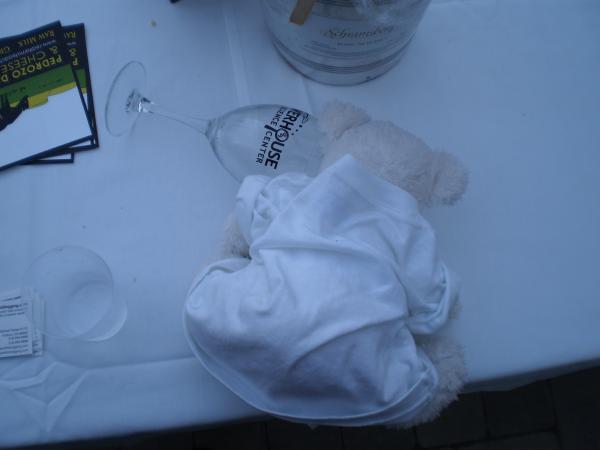 Around 9 PM we poured Bloggy into the car where, I am happy to note, I got my second parking ticket of the week (we got one at the AAAS meeting because none of the pay stations in the SFSU parking garage worked - a nice money raising scheme) but this time it was because I paid a flat fee with a credit card and did not realize that only covered two hours.
We drowned our sorrows at a nearby dessert place with a crepe and a mocha before I arrived home to discover our spam-preventing Captcha had gone rogue and prevented anyone from signing up or doing anonymous commenting, and went one better by hiding all of the anonymous comments throughout the 2.5 years of our existence.
Good times, but
Patrick
is a dedicated guy so by 3AM we were all fixed up.