Until a few months ago, the only connection that I was aware of between archaeology and Lego was the fact that I like both of them. But apparently other people do too.
I recently played the Lego: Indiana Jones game for Wii. The point of the game is to re-enact all three classic Indiana Jones movies (please, the Crystal Skull belongs in the same place as the Star Wars episodes 1-3: in a galaxy far, far away, or in a tomb deep underground where no one can see them). Playing Lego Indiana Jones with a bunch of archaeologists is even more fun than watching the movies with a bunch of archaeologists.
In the game you get to re-live all your favourite parts of the movie, and the cinematic scenes are sometimes shot for shot reconstructions: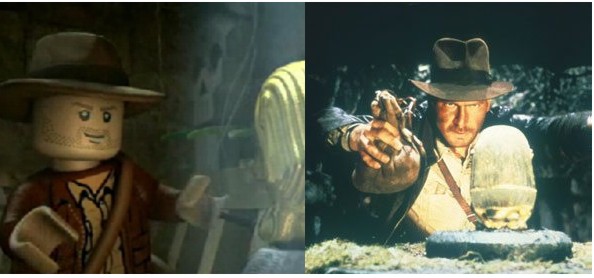 And just when I thought that Lego Indiana Jones for wii was the height of too muchery, I saw these awesome pictures of
Lego Archaeology
on Carly Whelan's photostream on Flickr.
"The PI examines a dart point recovered from the feature. "
Clearly we archaeologists have too much time on our hands.