Hank Campbell
Archaeologists used to note for new students that the field was not the place where most work was done; the Indiana Jones perception of flying off to ancient, hidden ruins and outfoxing Nazis was just an adventure tale. Archeology instead was done in libraries, they said. The visiting and digging was the fun part after the work was done.
Now they don't even need libraries; they have Google Earth.
The two sites have been discovered by satellite archeology (yes, that is a real thing now) researcher Angela Micol, who has spent 10 years searching for ancient sites from space. One site in Upper Egypt, 12 miles from the city of Abu Sidhum along the Nile, features four mounds each with a larger, triangular-shaped plateau. The site contains three smaller mounds in a very clear formation, similar to the diagonal alignment of the Giza pyramids.
The second possible pyramid site is located about 45 miles away. Both have been confirmed as new discoveries.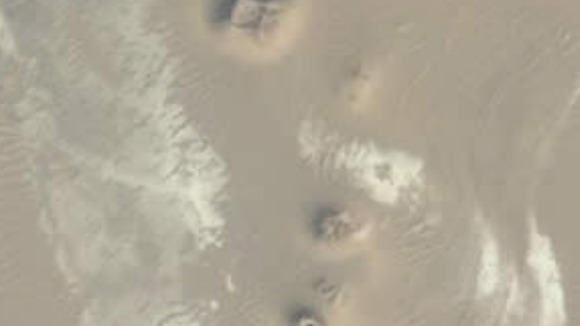 Possible 'lost pyramid' site in Egypt Photo: Google Earth Anomolies

. Link: ITV
'Lost pyramids' discovered in Egypt on Google Earth
, ITV news