Hank Campbell
If we want to start cutting budgets, Republicans are not wrong for noting that the Education Department and the Department of Energy could disappear without any consequence at all to America beyond the government union employees working there.
But one darling of the right, the military, could do some cutting as well. America has
16 different
intelligence agencies and one of them you likely never heard of,
the National Reconnaissance Office, has donated not one but two Hubble-sized military telescopes to NASA because, darn it, they just don't need them after all.
Meanwhile, NASA can't even afford to launch them. Part of that is their own fault - cutting the Constellation program
to simply replace it with something that has the new president's name on it
was fine politics, but stupid policy, and the
James Webb Space Telescope is determined to suck every other project that might like funding someday
into a budgetary quagmire of unknown depth. But, really,
two
telescopes sitting in a warehouse? With
2.4-meter mirrors, like the Hubble, but with 100 times the field of view?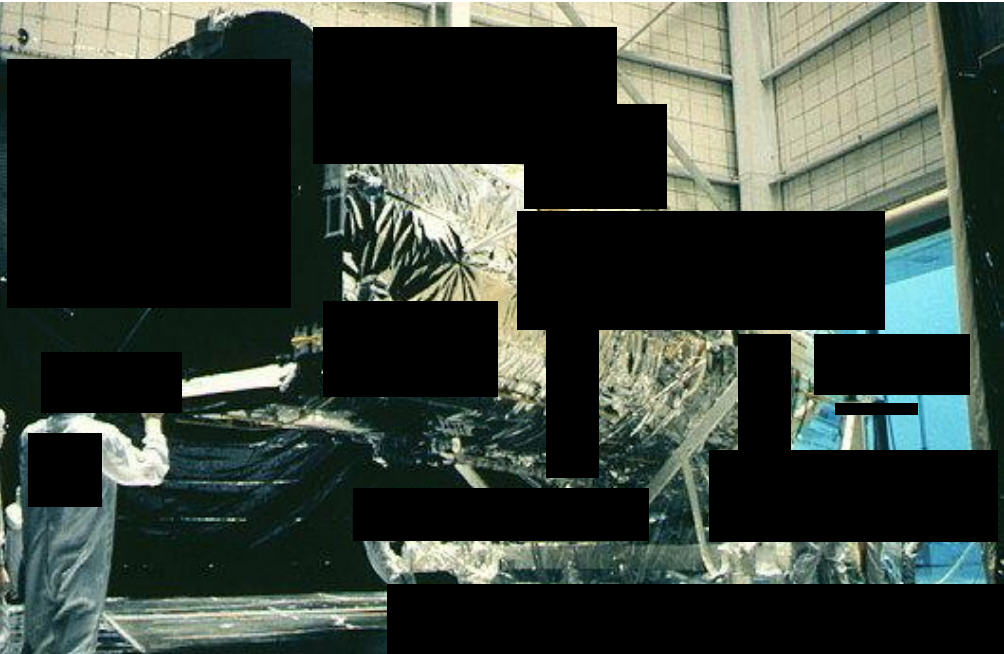 Here is the pretty hilarious redacted photo from Alan Dressler's presentation accouncing the gift. Can you make any of this out? If we see an old telescope unredacted, the terrorists win!
NASA will want more budget to add cameras and such but these are only incrementally better than the Hubble - 'classified' as to exactly how they are better - and NASA seemingly can't do anything meaningful without $5 billion, it has become more of a job works program than a science and technology leader, so they are not likely to get more money any time soon. Still, two of them were in a warehouse, better than the Hubble, for what exactly? The
National Reconnaissance Office isn't saying.
But clearly while most areas of the economy starve, both Democrats and Republicans have pet items that are untouchable. Which items you think should be touchable to cuts mostly only tells people how you vote.
NASA gets two military spy telescopes for astronomy By Joel Achenbach, Washington Post