Oramed Pharmaceuticals, a drug development company aiming to make alternative delivery systems to injectable medication, has dedicated research to finding a solution to make oral insulin, thus making managing diabetes easier and painless.
Parallel to developing an effective oral medication, they have come upon another delivery method, bypassing the harsh portion of the gastrointestinal system altogether. Oramed recently announced that they have concluded proof of concept on their
other
alternative to injectable insulin: insulin suppositories.
Based on their research, the insulin suppositories showed rapid insulin absorption and actively lowered blood glucose levels. These results were well tolerated by participants and no adverse symptoms were seen.
Besides the obvious drawbacks of injection, there is evidence that repeated insulin therapy is associated with negative effects. There are two cutaneous complications of repeated injections, lipoatrophy and lipohypertrophy, which can slow the absorption of the medication, and may not work as predictably as expected. To a diabetic, this can me erratic blood sugars and lead to hyper or hypoglycemia.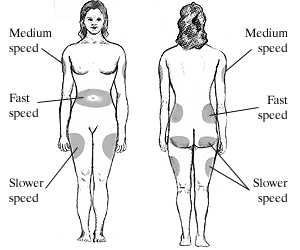 According to the NIH, these are the best places to administer a shot of insulin and the relative speeds of action. Insulin suppositories offer ease of delivery with added rapid insulin action in the bloodstream. Photo credit: NIH, Senior Health
Additionally, insulin suppositories have the advantage of complete and quick absorption through the colon wall as well as being "relatively painless."
Oramed Pharmaceuticals is currently still developing their method for oral delivery of insulin.