Formerly conjoined twins Carl and Clarence Aguirre celebrated the 10th anniversary of their separation today with the medical team that successfully separated and cared for them at The Children's Hospital at Montefiore (CHAM) - the first documented set of twins to undergo a successfully staged separation of craniopagus twins in the world.
One in two and a half million live births are craniopagus - twins joined at the head - and when Carl and Clarence arrived at Montefiore from the Philippines in September 2003, they were already dying from complications of their condition. Doctors believe that without the surgery, both boys would have died in 6-8 months.
Their delicate separation surgeries, which began in October of 2013 and were performed in four stages over a period of 10 months, represented a new approach to an especially devastating medical condition. Since then, this method has been replicated around the world and has become the standard of care for all such procedures.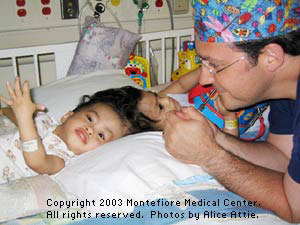 Source: Montefiore Medical Center
Ten years after the surgery, Clarence and Carl are happy 12-year-old boys, enjoying time in the seventh grade. While Carl loves playing video games, eating ice cream and playing with his brother, Clarence is very outgoing and active, and enjoys swimming, dancing and singing.
"We are thrilled to commemorate the 10 year anniversary of one of the first successful staged separations of craniopagus twins in the world, also known as twins joined at the heads. The surgery was groundbreaking and our knowledge from the procedure has helped guide similar successful surgeries around the world," said James T. Goodrich, M.D., Ph.D., D.Sci. (Hon.), director, Pediatric Neurosurgery, CHAM and professor, Clinical Neurological Surgery, Pediatrics and Plastic and Reconstructive Surgery, Albert Einstein College of Medicine, who led the CHAM surgical team that separated the children.
Carl and Clarence continue to see Dr. Goodrich twice a year for check-ups in addition to seeing a pediatrician and neurologist at Montefiore on a regular basis. While the boys are still wearing helmets to protect their heads, doctors are optimistic that their bone will become more fully developed and there will soon come a time when they no longer need them.
Details about the work were published in
Craniofacial Surgery, Brain: A Journal of Neurology and Journal of Neurosurgery.