Charity, What Does It Mean? - Sadaqa, Matlab Kya He?An essay on the meaning of the term 'charity', with scientific, philosophical and historical discussion.

"There is no person who does not have the obligation of doing charity every day that the sun rises."
Prophet Mohammed

"Though I speak with the tongues of men and of angels, and have not charity, I am become as sounding brass, or a tinkling cymbal."
Saint Paul

All people in all lands share a common tool: language.
Language is used in every walk of life. It is impossible for any person to take part in the ordinary activities of a society without the use of language.
In law, science and religious texts, language is used in such a way so as to preserve as closely as possible the original precise meanings of words.
It is not true today to argue that science is just another belief system. However, the processes of legitimate discussion and argument in science can be traced back to belief systems. I can state that idea as a simple fact because there is a trail leading back in time to the remotest foundations of science. Modern science has its remotest foundations in law. Ancient law has its remotest foundations in a philosophy derived from religion.
In most cultures, the origins of law can be found in religious beliefs. Belief is not science, but the linguistic and logical analysis of beliefs expressed in written form may be properly described as scientific.
In Ancient Greece, many now famous philosophers used to argue law in the legislature, and guilt or innocence in the courts, using the power of language to sway beliefs. They were, many of them, teachers. Aristotle was teacher to Alexander the Great.
All people in all lands share a common tool: language.
Language is being used ethically by political persuaders
only
when they speak the truth, the whole truth, and nothing but the truth to the best of their knowledge and belief and with a desire to promote knowledge of the topic under discussion.
Any person who deliberately chooses to select only the items of public knowledge that conform to their own personal beliefs with a desire to promote their own interests - and then presents that as fact - is by all the rules of law, logic and ethics, a liar.
Language is a beautiful woman prostituted by liars.

My sub-header above is, you will have noticed, phrased in propagandist terms. This was for the purpose of illustrating the power that words have in stirring up emotions.
All people in all lands share a common tool: language.

Almost any tool can be used as a weapon. Language is the most subtle of weapons: even though it may cause untold harm, it leaves no readily visible mark. Language may bring death and destruction to innocent victims. By employing the psychology of blame, propagandists cause the blame for their own criminality to fall on innocents. Many are the wars and riots that were started in this way.
No person can commit a crime in the modern world without leaving at least some trace to be discovered by forensic scientists - the crime scene investigators. In a similar way, no propagandist can commit a crime against humanity without leaving traces in the linguistic crime scene - traces which may readily be discovered by forensic linguists - people who can follow the language trail.
As an example of following the language trail, consider plagiarism. In the modern world with its internet tools it has become very easy for people to claim credit for another person's work. Many of them do not realize just how easy it has become for linguists and software authors to detect and expose plagiarism. There is a market for essays and theses on the internet. Some scientists are ready to compromise their ethics by writing these essays or promoting the sites that sell them. Any scientist who would do such a thing will destroy their scientific reputation when they are found out. And they will be found out.
All people in all lands share a common tool: language.

Language is the only tool which is also a weapon of defense which can never be taken away from its user except from a cold, dead tongue. Knowledge of how language can be used as a weapon of propaganda is knowledge that can be used as a shield and a defense.
Poets take this a stage further: they use language as a decoration and a shield - a
decus et tutamen
.
A good poet can convey a message which can cross the bounds of time and of space.
After the passage of so many centuries, billions of people know of the psalms of David, the sermon on the mount of Jesus of Nazareth, the recitations of Mohammed, the poetry of Paul of Tarsus, etc.
---------------------------------------
Charity, What Does It Mean? - Sadaqa, Matlab Kya He?Note
on pronunciation:
Matlab - I have heard this word pronounced by various Pakistani friends as
'mat loob, mat-lub, mat lab'.
Kya - pronounced k'yah or key-ah.
He - pronounced 'hay'.
There are two words derived from Arabic which are often translated into English as 'charity':
the one is 'zakat' and the other is 'sadaqa'.
Zakat is an
obligatory
payment which, if it were not obligatory might be translated into English as 'charitable donation'. I would say that it might best be described as a tax on wealth, payable directly to a non-government body for distribution in a charitable manner.
Sadaqa is a voluntary payment to a needy person. The fact of having paid zakat does not exempt any person from the payment of sadaqa if they can afford it.
The etymology of the term 'charity'

"The derivation of words is like that of rivers; there is one real source, usually small, unlikely, and difficult to find, far up among the hills; then, as the word flows on and comes into service, it takes in the force of other words from other sources, and becomes quite another word ..."
(XVII, 292).
John Ruskin - Munera Pulveris1, 1871 edition.

http://www.readbookonline.net/title/19635/

The word 'charity' is from the Greek
charis
, meaning 'grace' or 'divine gift', and the Latin
caritas
, meaning dearness, affection or loving kindness. In Christian theology, 'charity' means 'unlimited loving-kindness toward all others'. It is an unqualified doctrine: 'all others' means exactly what it says. It does not mean 'all others except ...', it means all others period.
John Ruskin noted how the term 'charity' had become tainted down the centuries with notions of the giving of
money
as some sort of civic obligation devoid of emotion. This has led historically to the notion in some minds that the acceptance of charity is undignified. When a small child is rescued from harm, how can it be undignified for the rescuer to cuddle the child and comfort it? But that cuddle is the purest charity.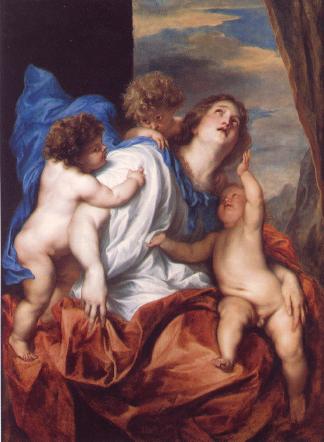 Charity - Van Dyke
John Ruskin is widely known in some circles as an art critic. But he can also deservedly be called an economist. His ideas in economics were not well received in his day, but he does make some very astute observations about a link between economics and language.
Words, then, like architecture, bear the moral record of a civilization, but must be periodically purged of excrescences so that the original meaning may stand forth as a genuine reinterpretation -- like doctrine in Newman's essay on development or like clothes in Carlyle's theory of historical institutions or indeed like the logos in any idealist philosophy that attempts to breach the contradiction between constancy and change. For Ruskin "divine gift" is the "true source" or Idea of Charity, which, rightly reinterpreted as true reciprocity of exchange, would revolutionize English economic life.

Ruskin's idea may well apply to the need for charity in commerce, but it misses the mark: the giving freely of anything at all - even a hug - for the benefit of another is the true meaning of charity.
The meaning of charity made plain in poetry

1 Though I speak with the tongues of men and of angels, and have not charity, I am become as sounding brass, or a tinkling cymbal.

2 And though I have the gift of prophecy, and understand all mysteries, and all knowledge; and though I have all faith, so that I could remove mountains, and have not charity, I am nothing.

3 And though I bestow all my goods to feed the poor, and though I give my body to be burned, and have not charity, it profits me nothing.

4 Charity suffers long, and is kind; charity envies not; charity vaunts not itself, is not puffed up,

5 does not behave itself unseemly, seeks not her own, is not easily provoked, thinks no evil;

6 rejoices not in iniquity, but rejoices in the truth;

7 bears all things, believes all things, hopes all things, endures all things.

8 Charity never fails: but whether there be prophecies, they shall fail; whether there be tongues, they shall cease; whether there be knowledge, it shall vanish away.

9 For we know in part, and we prophesy in part.

10 But when that which is perfect is come, then that which is in
part shall be done away.

11 When I was a child, I spoke as a child, I understood as a child, I thought as a child: but when I became a man, I put away childish things.

12 For now we see through a glass, darkly, but then face to face: now I know in part; but then shall I know even as also I am known.

13 And now abides faith, hope, charity, these three; but the greatest of these is charity.

Corinthians 13

The demand of Islam that all its followers should spend their wealth freely on the common good of society cannot be fully met by the payment of the obligatory levy of zakat. According to a hadith the Prophet observed: "In one's wealth there is a due (to God and His men) besides zakat." Hadrat Ali, the fourth Caliph, explained this hadith thus: "God has ordained that the rich are to pay out of their wealth to that extent which is sufficient for the needs of the poor; so that if they do not find food and clothing, or any other need remains to be fulfilled, it would be because the rich are not doing their duty, and for this God will take them to task on the Day of Judgment."

http://www.jammu-kashmir.com/insights/insight20000330a.html


Charity is giving aid and comfort as a gift from the heart.

Charity, preached by every religion of the world, is a way of bringing justice to society.Charity is the lawful giving of what is ethically and morally owed to
people in need.

If I do not help the child who is up to his
knees
in water, then, when he is grown to be a man: why should he help me in my grey beard when I am up to my
neck
in water?
But if he was taught the true meaning of charity by wise parents - he will help me, to my everlasting shame.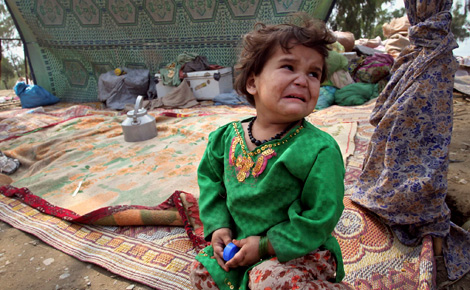 The children are our future

Please donate:
http://www.unicef.org.uk/give/
You can also raise money for Pakistan just by reading my article -
Tears For Pakistan
All my advertising revenues for this month will be paid to
DEC
, the Disasters Emergency Committee:
http://www.dec.org.uk/
Further reading:
http://www.victorianweb.org/authors/ruskin/sawyer/9.2.html
edited: error corrected to read 'sadaqa'.
18 August, edited minor typos.