Are male Jamaican anole lizards masking some deep insecurity? Overcompensating for small body parts?
Nothing quite that dramatic, though the reason they begin and end the day with displays of reptilian strength, like push-ups, head bobs and extensions of a colorful neck flap, or dewlap, was unknown until recently.
The answer? Nothing more than wanting to defend their territory, according to a new study.
"Anoles are highly visual species, so in that sense it is not surprising that they would use visual displays to mark territory," said Terry J. Ord, a postdoctoral researcher at UC Davis and at Harvard University's Museum of Comparative Zoology. The lizards are the first animals known to mark dawn and dusk through visual displays, rather than the much better known chirping, tweeting, and other sounding off by birds, frogs, geckos and primates.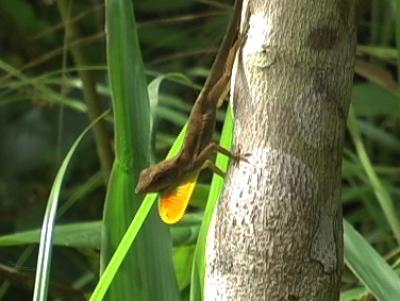 Male Anolis opalinus lizard fronting for the lizard honies and the make anoles who would try and take them. Credit: Terry Ord
Ord studied four species of Jamaican forest lizard: Anolis lineatopus, Anolis sagrei, Anolis grahami, and Anolis opalinus. Females establish small territories allowing access to food and other resources, while males stake out larger territories allowing them access to several females. The males spend much of the day sitting on tree trunks and displaying head motions, push-ups, and dewlap extensions, all to warn other males away from their territory.
These displays of strength help avert actual physical confrontations between male lizards, which can be very fierce and destructive, Ord said.
Ord videotaped individual males at different times of day, from before dawn to dusk. In all four species, he found distinct peaks of activity at daybreak and for about two hours afterward, and again just before dark. Anoles leave their daytime perches at night to find safe shelter from nocturnal predators.
Scientists disagree on why birds chorus at dawn and dusk: competing ideas range from territorial defense to manifestations of circadian rhythms (the animal's internal clock). Ord said his work suggests male anoles use their morning displays primarily to mark territory.
"The dawn chorus may be a way of communicating having survived the night," Ord said. "If in the morning a bird doesn't hear its neighbor, or an anole doesn't see its neighbor, it may be an opportunity for the animal to expand its territory."
The research was funded by the National Geographic Society and National Science Foundation, and is published online by the journal American Naturalist.