The Judge Rotenberg Educational Center (JRC) in Canton, Massachusetts, has 45 people who've been exposed to electrical shocks through electrodes attached to their skin, under the guise of conditioning individuals to stop engaging in self-injurious or aggressive behavior. They have names such as Whistle Stop, SIBIS, GED, GED-3A 2, and GED-4 2. Some 35 years ago, they were approved as medical devices.
In a rare move, the U.S.
FDA is banning these electrical stimulation devices
(ESDs) because they present an unreasonable and substantial risk of illness or injury that cannot be corrected or eliminated through new or updated device labeling. Many of the people who are exposed to these devices have intellectual or developmental disabilities that make it difficult to communicate their pain, and
evidence of the device's effectiveness is weak
. Only two other medical devices have been banned during FDA's authority over those.
FDA finds that modern behavioral treatments, such as positive behavioral support and medications can enable health care providers to find alternative approaches for curbing self-injurious or aggressive behaviors in their patients.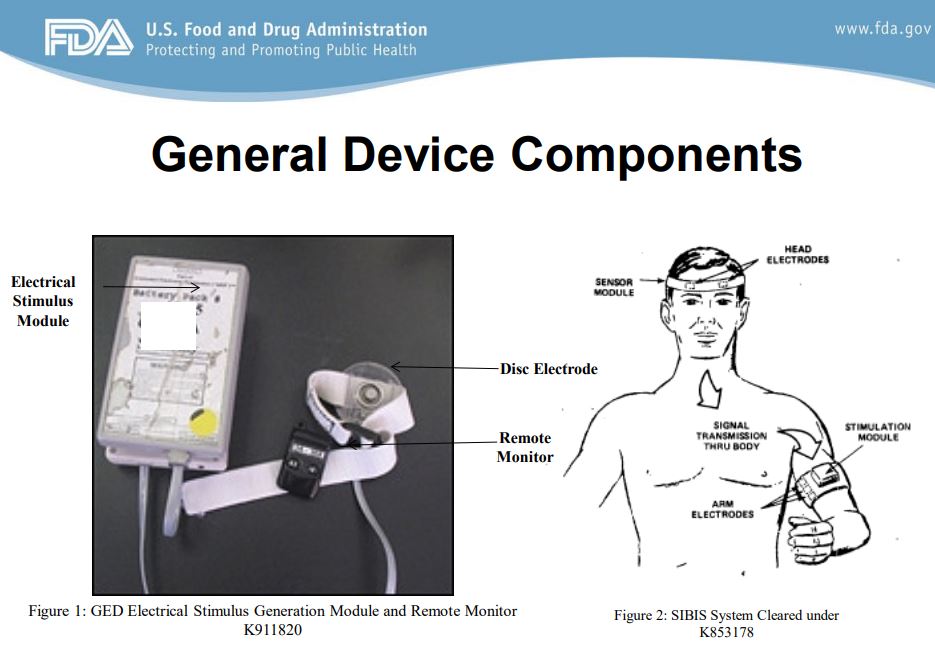 Credit: FDA Electrical Stimulation Devices (ESDs) for Aversive Conditioning Neurological Devices Panel April 24, 2014
A prescription is required for each. The cleared ESDs include warnings never to place electrodes on the head or chest, or in such a way that current would flow through the chest because this could cause ventricular fibrillation (a dangerous irregularity in the heartbeat). In 2000, FDA says it incorrectly notified Judge Rotenberg Educational Center, that it qualified for exemption from registration and 510(k) requirements under 21 CFR 807.65(d). Once FDA recognized its error, FDA sent JRC an Untitled Letter on May 23, 2011, and a Warning Letter on December 6, 2012, for violations related to the lack of FDA clearance or approval for the modified Graduated Electronic Decelerator (GED) devices.
In making the determination that these products present an unreasonable and substantial risk of illness or injury and therefore meet the regulatory standard for banning, the FDA considered all available evidence, including clinical and scientific data; input from experts in the field and state agencies; and comments from Judge Rotenberg Educational Center, individuals and parents of individuals on whom ESDs have been used, and disability rights groups.
This rule applies only to ESDs used for self-injurious or aggressive behavior and does not apply to aversive conditioning devices used for other purposes, such as those used for smoking cessation or other FDA-cleared or approved devices or technologies such as cranial electrotherapy stimulators or transcranial magnetic stimulation, both of which have been found to have a reasonable assurance of safety and effectiveness for different indications.