Last Friday and Saturday,
the 2015 Synopsys Sac STEM Fair
was held at Folsom High School.
I moved here from the football town of Pittsburgh and one thing everyone in football fandom knows about football towns is that for 8 or more days during football season, the parking lots at stadiums are jam-packed with "tailgating" fans, even if they don't have tickets to the actual game. Tailgating is named such because in its earliest form it was just driving a truck up before the game and putting down the tailgate and sitting on it and having a refreshment. Then it became about bringing a grill and cooking some food, then suddenly it became a football event in itself.
Except for a few days a month during each season, football is not vital to the lives of anyone not getting paid to do it, yet science, technology and medicine are things we all use every day and no one tailgates for that.
One time a short while ago, while sitting around with my neighbors playing poker or Ticket To Ride or whatever we happened to be doing, the science fair came up and I said, "You know what would be funny? If we tailgated the science fair." The others asked what I meant and I explained that football is a cultural phenomenon, people show up and pay for parking just to be part of it. Everyone loves science, on surveys anyway, but how many people show up at high school science fairs the way they do high school football games? Wouldn't it make kids in Science, Technology, Engineering and Math (STEM) feel pretty good if people were showing up to tailgate
science
?
Many of my neighbors extrapolate rather quickly so they agreed it was a clever idea and also quickly calculated how much work this simple idea would end up being and moved the conversation onto something else. But not all of them.
Folsom is not a Johnny Cash song, it is an Intel town. An Intel town means a lot of Intel neighbors and over time I have gotten to know a number of people in the Non-Volatile Memory Solutions Group - they make the NAND flash memory that goes in those nifty Solid State Drives (SSDs) that aren't breaking like old hard drives. I don't know the person who runs it, I had to look up the name (it's Senior V.P. Robert Crooke) but I know that a good corporate culture happens from the top down, and that group has a terrific corporate culture. The second time time I mentioned the tailgating idea, my neighbor James Myers in NSG mentioned that he owns a giant camper trailer and that would be better than a truck. Well, yes, I agreed, though that seemed a like a big ask for a neighbor just to take a funny picture of us tailgating a science fair. And we could do hands-on experiments with people not participating in the science fair, but just showing up to support it, he said.
Now
I
was extrapolating how much work that would end up being.
I needn't have worried, James ran with the idea and quickly gathered a group of Intel folks who were willing to help and had a great deal of experience working with kids and adults alike. We had a breakfast meeting at 7 AM on a Saturday to plan it - and
other people even showed up
. That's caring about STEM outreach right there.
We now had a group of Intel people willing to donate their time but it's one thing to sit in a parking lot and grill hot dogs and another to do experiments and give away prizes. For that, we needed space inside the event and that meant getting official approval from both the organizers and Intel itself. James got us a meeting at Intel with Stephanie Smith, Community Engagement Manager, and Tony Oliver in Global Marketing and Communications. They were already helping with the event and loved the idea of doing something else fun for the public and said they would do their best to get it going. I don't know how much work Stephanie and Tony had to do to get it approved so quickly, but they did, and then they worked with Synopsys Sacramento Regional Science & Engineering Fair Director Michele Hastie to get us a fantastic spot.
The bonus for the STEM fair organizers: The Intel seal of approval also meant that each Intel employee who helped us would generate a donation to the event itself.
One of the experiments was to let people try and make a marshmallow-toothpick tower strong enough to hold an SSD drive and everyone who did was entered into a drawing to win two of those. Kids also learned about Archimedes and levers and pulleys, how to make a non-Newtonian fluid in their kitchen (you are welcome, parents!), how a wafer full of chips is made and hard drives work, and kids got to go Tailgating Command Central and control the robot moving around outside, and talk to their crowd, who saw their face and heard their voice through the robot's screen.
It was a terrific event, we were busy the entire time, but we got a chance to take some pictures. I don't have them all, just the ones taken with my phone camera or someone else there, but I will add more as I get them:
Kids could go inside and remotely man the robot, which meant it moved around the crowd and they could see a face and hear a voice and communicate. Why is that better than a cell phone? I have no idea, it just is. Photo credits - Left:Hank Campbell. Right: Trudy Dennison.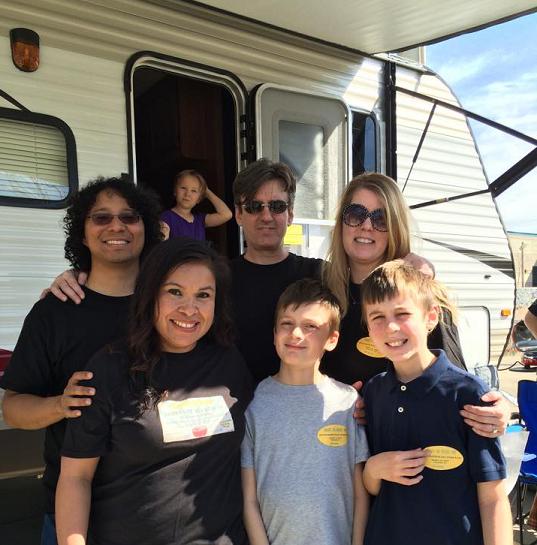 The Science 2.0 crew. Sort of. Obviously we have no crew, so friends were willing to show up for a free t-shirt. My kids just liked the idea of playing with robots and eating hot dogs.The marshmallow toothpick tower was to let kids try and make an engineering design that could hold up an actual Intel SSD hard drive. If they did, they got entered into a drawing for a real one. It was only a matter of time before some pesky life sciences person screwed it all up.
There was sure to be football fan humor. Nothing says hilarious like a "defense" sign at a science fair, am I right???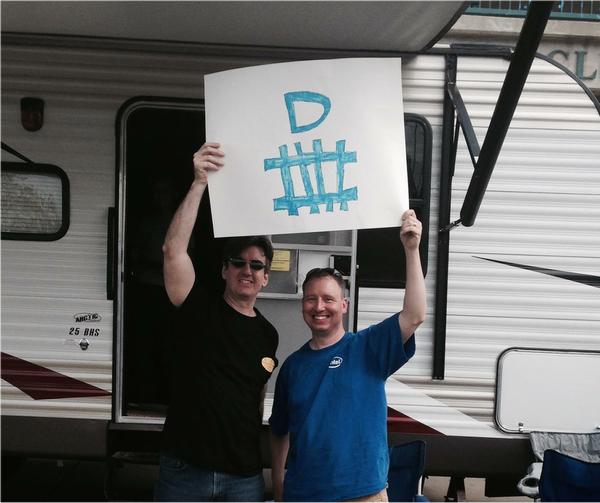 After the hot dogs were all grilled, I got a chance to sit. The can on the grill is one of the experiments too. I would ask people what would happen if I put the hot soda can in a bowl of ice, then I would do it.
Physics!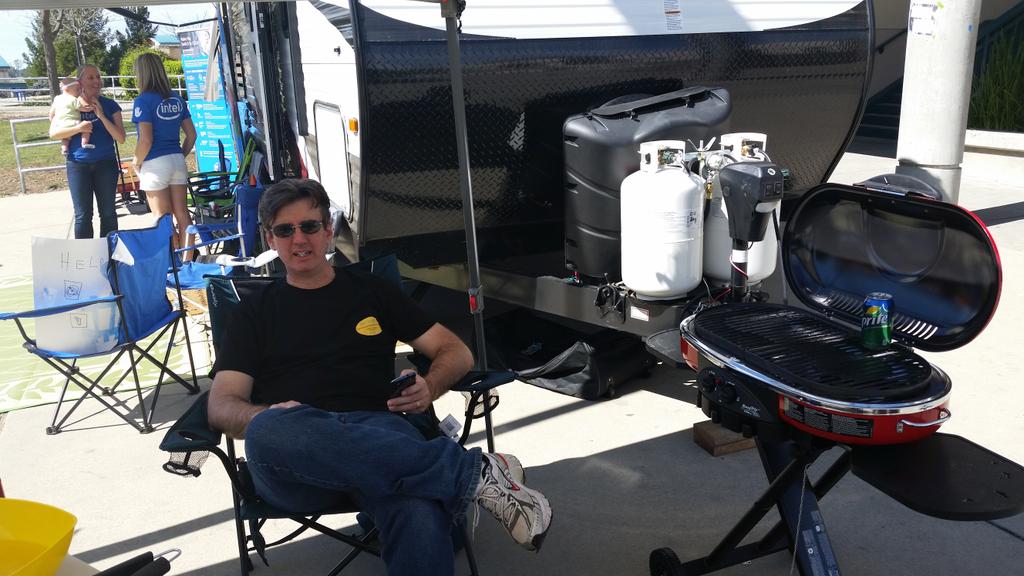 The backs of the shirts were all customized,
many with our hilarious t-shirt designs
, and the front pocket was this: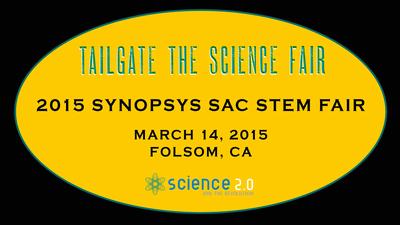 Below you can see the view in a quieter moment. Intel has a banner. We don't have a banner, but I promise that when we are a $56 billion company, not only will we have a banner, but everyone in Science 2.0 can have one for their house. Intel really hit a home run when it came to getting people excited about STEM. The experiments were ideal and didn't take all that long to clean up. The thing that looks like a TV on rollers is the robot the kids inside the trailer controlled.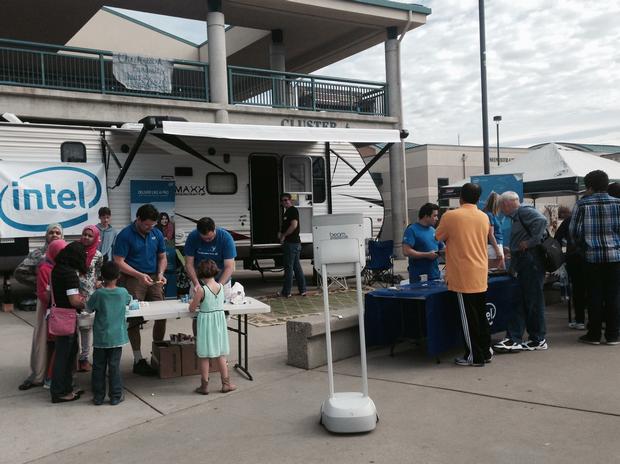 On the left, a non-Newtonian fluid that you can make in your kitchen intrigued everyone. On the right, someone in a costume with Intel's James Myers:
Intel's Mr. Wiz did two experiments, a pulley experiment to show kids they could lift a bucket of bricks with their pinky, and then a lever experiment where even the tiniest child gasped in amazement that they could lift him. He even got to sit down at one point.