If you watch popular shows like "Undress the Nation" or Gok Wan's "How to Look Good Naked" - what, you don't watch them? That's because that guy behind American Idol hasn't brought them here yet, and in these times of strife we need shows about women in underwear - but if you live in England and watch them you may have noticed something a researcher also noticed; when women wear the right underwear, they are more confident about their bodies and about their overall appearance which, to men, is the same thing.
Who knew underwear was so important? Not me. All I know is there is 'dating' underwear - bras and panties match - and then 'dating a long time' underwear. You do the math.
But Christiana Tsaousi at the University of Leicester School of Management says it is not so simple. She says skivvies are a vital component of womanliness because they generate 'sensations and feelings of confidence.'
I guess all men like the sound of that.(*)
Tsaousi has been studying this for two years. Her interest in identity and popular culture was the motivator. I don't know what that means but if I had known I could get a graduate degree studying women in underwear I would still be in school.

Christiana Tsaousi
Says she: "Underwear comprises the most intimate part of our clothing but still has great social importance, since a considerable amount of money is spent by women consumers on their underwear. Women participating in this research report different experiences regarding how their underwear supports them in the many roles they are called to play out every day. It can be a silent, routine part of our everyday 'body work', serving its purpose of holding in/controlling the body but it can also stimulate different feelings on different occasions. So a woman's knickers, bras, camisoles and so on become a tool of expression and a carrier of feelings about her body and her sexuality."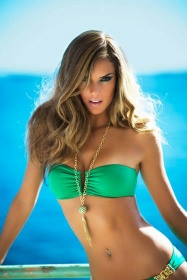 Is this a bikini or underwear? More research needed.
"Underwear can make me feel good or bad," added Caitlyn, an administrator.
Amen, sister.
Tsaousi is presenting her research June 26th at the
Festival of Postgraduate Research.
I had never heard of that before either but it gives postgraduate researchers the chance to discuss their work with the public in a live setting. Which is a pretty cool idea.
I am betting Tsaousi has the biggest crowd.
There's no online link to anything she has published but I will ask her for a copy of the presentation she gives at the Festival. She may not want to, given the light tone of this post. Some people take their underwear pretty seriously.
(*) All but 2% of us, anyway.