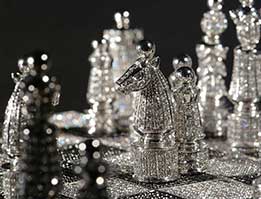 Credit: Millionaire Chess tournament
When I was a kid, no one outside Texas played Texas Hold 'Em. We played Stud, we played Draw, we played Liar's, but not Hold 'Em.
Like Esther Williams movies and organic food, some things just make their way into pop culture and there is no rational reason why. Texas Hold 'Em is now the most popular card game in the country, every month or so our neighborhood gets together at one of our homes and puts in 20 bucks each and we go at it.
What I did play as a kid was chess. And a lot of Science 2.0 members did the same thing. Science 2.0 is the only science site that has a chess engine built right in, members can challenge each other and the audience can watch. Don't get me wrong, though I learned it young I am terrible at the game. I have read the books, I have embraced openings no one uses any more, in order to confuse opponents (
Giuoco Piano
), and still it is no help.
It may be that I lack confidence. I also lack the confidence to believe I can make chess into a cultural phenomenon spectator sport. But chess grandmaster Maurice Ashley beats me there also. He believes his "
Millionaire Chess
" tournament in Las Vegas will put chess back on the cultural map.
Even the open section pays big money - $100,000. That's quite a lot for chess.
It starts today but
the entry fee is $2,000
so it isn't for those lacking confidence like me, but amateur players regularly pay a few hundred dollars anyway, so it may not be out of the question. And now even the World Series of Poker, the most famous Hold 'Em tournament, charges $10,000.
The reason you can probably still get in for Millionaire's Chess though it starts today is that they only have 525 players registered so far (and most likely they registered at the earlier $1,000 rate), along with 32 Grandmasters. If you are doing the math in your head, that means they are going to lose a few hundred thousand dollars.
So go while you can, because it may never happen again. If you prefer to watch it live on the Internet,
you can do that too
.
And should you ever visit Casa Hank, outside my upstairs office in the rotunda you will see this. And you are welcome to clobber me at a game.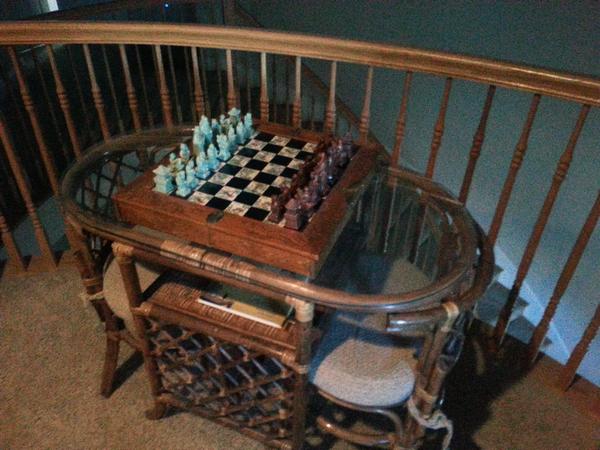 Image credit: Hank Campbell