News Staff
On September 16th the 2010 World Solar-Powered Air Conditioning Development Forum was held in Dezhou, a municipality of China's Shandong Province.

During the conference, Shandong Vicot Air Conditioning Co., Ltd. unveiled the world's first directly solar-powered air conditioning unit, which could be a significant step forward for the industry's future strategy and development. 
Some predict that by 2060, the world will be faced with a diminished supply of current energy sources - in order to replace all fossil fuels by that time, sustainable energy sources should make up 30% of all energy sources by 2020 and 50% by 2040.   Given that, development of new alternative and renewable energy sources is under way.    Localized solar power can be utilized free of charge, is in abundant supply,  and does not pollute the environment so it is an obvious choice to replace fossil fuels.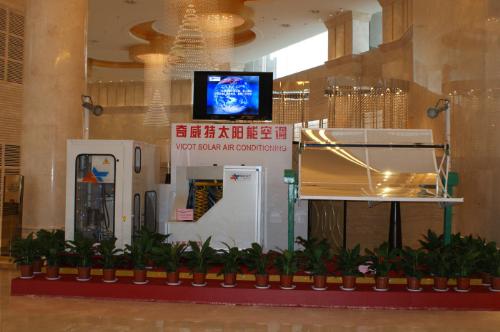 China is the world's largest producer, consumer, and user of solar power; its solar power industry already lays claim to 76% of the world's market but most of China's solar power development and use is of solar-powered water heating units. Statistics show that over 5,000 enterprises in China's solar power industry are producers of solar-powered water-heating units.

Backed by the power of dictatorship, China's 'Renewable Energy Law' provides a guarantee for the development of industries exploiting solar power.     China's Grand Western Development Program provides industries exploiting solar power with a mandated and immense domestic market and the adjustment of China's strategic energy plan has led to an increase in governmental support for the development of renewable energy sources. All of these factors represent a great opportunity for development for China's industries exploiting solar power, stated CPPCC Shen Jianguo, vice chairman of the National Committee of the Chinese People's Political Consultative Conference's (CPPCC) All China Federation of Industry and Commerce and director of the China Non-governmental Enterprise Committee. 
 The solar-powered air conditioning unit revealed by Vicot at this year's 2010 World Solar-Powered Air Conditioning Development Forum claims an optimal 85% thermal cooling conversion efficiency, and they say its ability to utilize solar power is twenty-seven times that of the average water heating unit. They also say this solar-powered air conditioning unit allows for 24-hour continuous cooling, heating, and supply of hot water, while natural gas can be used as a supplemental energy supply. 
 Their solar-powered air conditioning unit is the result of three years of work and they say its cost is relatively low, recouping the unit's investment in 6.7 years.
 China's supply of solar power is substantial;  two-thirds of the nation's surface area have annual solar irradiance exceeding 2,200 hours.  Consumption of energy by buildings and other structures in China is 27.45% of the country's overall energy consumption, so the incorporation of energy-saving measures in these structures is important. Currently, energy consumption in buildings and structures is mainly attributable to heating units (65%), water heating units (15%), electricity (14%), and kitchen appliances (6%). 
 Energy consumption by air conditioning units accounts for about 60% of energy consumption in buildings, which is 30 times that of solar-powered water heating units so the development of solar-powered central air conditioning will not only bring about a change in energy usage but will also bring about a technological and industrial revolution.