Did animals teach us one of the oldest forms of human technology, basketry? Did that help us learn to count? These are just two of the themes due to be explored at a University of East Anglia event which takes place June 5-6) is part of
Beyond the Basket
, a new research project led by the university exploring the development and use of basketry in human culture over 10,000 years.
Basketry has been practiced for millennia and ranges from mats for sitting on, containers and traps for hunting, to partitions and walls - all of which have been central to advancing our culture.
Beyond the Basket
is a two-and-a-half year project funded by the Arts and Humanities Research Council to explore the role of basketry in human culture  in various parts of the world.
The aim is to identify the mechanical traditions of making and the ways in which basketry is implicated in wider patterns of understanding, for example the order of society or the design of the universe. It will also show the impact of woven forms on other media, such as pottery, painting, and stone sculpture and architecture, and look at the future of basketry and the solutions it could offer to current issues, whether technical or social.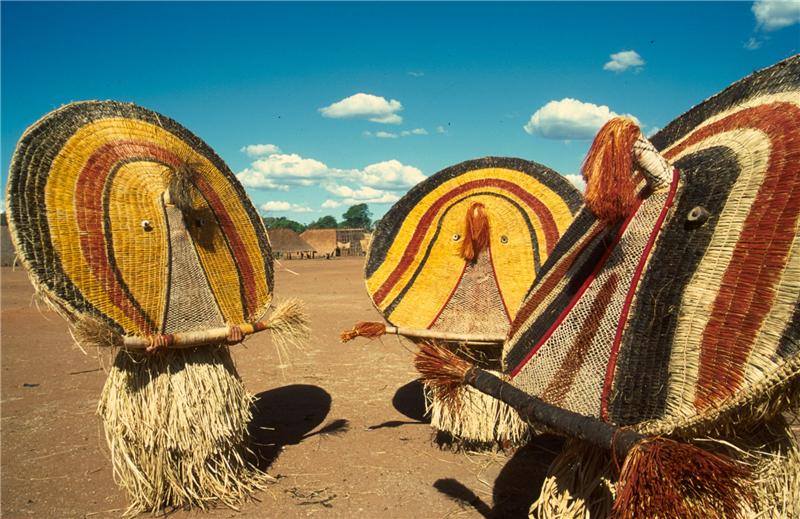 Basketry masks in Amazonia.  Credit: University of East Anglia
Project leader Sandy Heslop, of the School of World Art and Museology at UEA, said, "Basketry is a worldwide technology and is the interaction between human ingenuity and the environment. It tends to make use of, and therefore has to be adapted to, local conditions in terms of resources and environment.
"Without basketry there would be no civilisations. You can't bring thousands of people together unless you can supply them, you can't bring in supplies to feed populations without containers. In the early days of civilisations these containers were basketry.
"We may think of baskets as humble, but other people and cultures don't. They have been used for storage, for important religious and ceremonial processes, even for bodies in the form of coffins."
It is about 10,000 years ago that evidence for basketry starts to appear in North America, Asia, Europe and the Middle East. Today its uses and influences are still seen, from the bamboo scaffolding often used in Asia, to contemporary architecture, for example the 'Boiler Suit' - the name given to the 'woven' steel tiles encasing the boiler room at Guy's Hospital in London. 
Mr Heslop said: "Beyond its practical uses, basketry has arguably been even more influential on our lives, since it relies on the relationship of number, pattern and structure. It therefore provides a model for disciplines such as mathematics and engineering and for the organisation of social and political life.
"Given the range of uses of basketry the associations of the technology are very varied. Some are aggressive, others protective, some help create social hierarchies others are recreational."
The conference, Beyond the Basket: Construction, Order and Understanding, will look at various themes including: design and production, environmental issues, commercial and historical perspectives, weaving in architecture, and the mathematics of basketry, as well as more anthropological and archaeological topics. Among the speakers will be experts from North and South America, as well as the UK.
Beyond the Basket will culminate in an exhibition and accompanying book in 2011. The exhibition will include ancient material recovered by excavation as well as more recent examples of basketry from around the world and will enable people to experience basketry directly.