Spending on mental health for teens and younger rose by 26 percent from March 2020 to August 2022 - but it may be even higher because the analysis only saw families with employer-provided insurance from one group, Castlight Health, which managers employer-sponsored health insurance plans for about 200 companies.
During the period, use of mental health services increased by 22 percent,
finds the analysis
. Some of that me be to more availability, thanks to tele-health providing far better access than in-person care in the strained health care environment of the last decade. The use of telehealth for pediatric patients increased more than 30-fold early in the pandemic and remained at 23 times normal by August 2022, when in-person care was back to 75 percent of pre-pandemic levels.
As expected, since ADHD has seen sharp surges in diagnoses since the 1990s, that accounted for a lot of the activity, but claims involving 1.9 million children and adolescents with commercial insurance from January 2019 through August 2022 show that treatment for anxiety disorders and adjustment disorder increased substantially.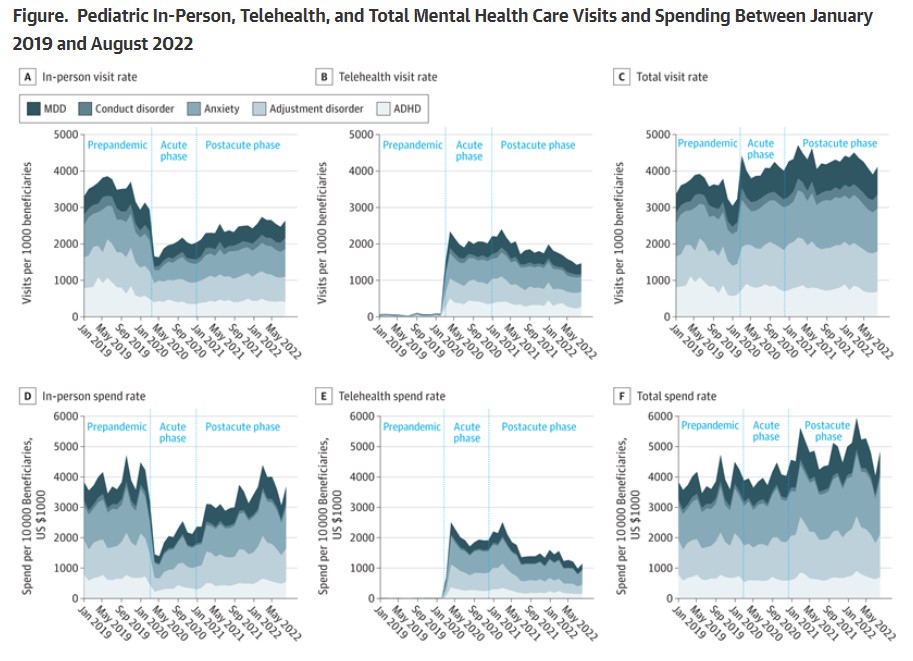 Stacked line graph, conveying cumulative visit rates and spend rates across mental health diagnoses. doi:10.1001/jamanetworkopen.2023.36979

During the early acute phase of the pandemic (March 2020 to December 2020), in-person mental health services for pediatric patients declined by 42 percent while tele-mental health services increased roughly 30-fold as compared to the year prior. Overall, there was a 13 percent increase in use of mental health services during the period.


After vaccines became available, there was a gradual increase in spending rates as compared to pre-pandemic periods for both in-person and telehealth care. By August 2022, in-person mental services for pediatric patients had returned to 75 percent of pre-pandemic levels but telehealth was still 23X higher than pre-pandemic levels. Overall, use of mental health services in August 2022 was nearly 22 percent higher than before the pandemic.