Martin Gardiner
There have been several implementations of two wheeled balancing robots [
example
]. And several which can read sheet music via a camera [
example
]. Others can 'sing' [
example
] – but the number of two-wheeled balancing robots that can autonomously read music and sing songs is low – possibly numbering just one.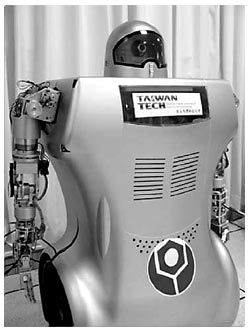 A research team from the Department of Mechanical Engineering at the National Taiwan University of Science and Technology in Taipei, Taiwan, (a.k.a.
Taiwan Tech
) have recently created one – which not only performs all the aforementioned activities – but can do so simultaneously.
The robot can sight-read the music and lyrics of four traditional Mandarin songs (
Siao Mi Fong, Siao Sing Sing, Wo Ai Tai Mei,
and
Cian Li Zhii Wai
) and can sing them with an accuracy of 98% whilst balancing on two wheels.
"

A singing voice usually can make people feel pleasant and comfortable, so it has become one of the indispensible elements in entertainment. A robot with singing capability may replace humans to serve the purpose. Someday when the techniques are mature, a robot may sing a solo in a theater to entertain its audience.

"
- say the team in their research article
"The Development of a MusicReading and Singing Two-Wheeled Robot"
which is published in the Journal of the Chinese Institute of Engineers, Vol 33, No 4 (2010)