Sun Reaches Quietest Solar Minimum Since 1913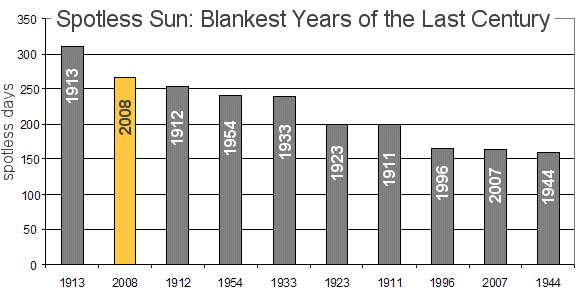 Blankest years of the
last
century?
I have seen some really good examples of
making the data fit the curve
,
but this has to be the best ever. Someone even managed to sneak
2007
and
2008
into the data for last century.
Awesome!
Douglas Adams
would have been impressed.
... and as the
Deep Calm
leaped from solar minimum to solar minimum it accidentally leaped into the theoretically lowest minimum possible and was swallowed by the black hole. The yoga drive continued to oooooooooom serenely. Emerging into an alternate universe
Deep Calm
found itself orbiting next to its counterpart
Shallow Furious
. That ship was already shaking violently in readiness to dive straight into the Sun, having obviously switched its anger mismanagement drive to maximum. The Sun was approaching zit maximum and it was obviously a very dangerous place to be ...
Inspired by
Douglas Noel Adams
(11 March 1952 – 11 May 2001) - Kudos!, and thanks for 42.