Events of International Year of Chemistry kept me from writing for some while. I was so absorbed with all the research writing these days, that I could not find space and time to read anything happening around the world. Coming back, I really enjoyed reading Dave Deamer's article post on the issues of authoring a book. Well, I noted a few excerpts from it, but I really wonder if I shall ever find time for the same. This is because I live in Mumbai, where people just are always tangled in deadlines and the pressing onus just to reach the workplace seems altogether a battle. However, these excerpts will indeed help me in writing research papers and essays which currently forms a daily activity just like any other researcher. The point of note here is at times too much information is cumbersome to handle.
I returned from a short holiday and now I feel even more drained as compared to before leaving for it. I am also into a conditions known as the "Holiday Effect," which is defined as the state of being, wherein nothing that is happening in one's home country makes any difference or is of any relevance. While the vacation would be "perfect", the after effects on returning would be disastrous. To deal with a backlog of around 100 emails and the actions related to them would erase all the memories of the vacation within the first hour of getting back. The most most task was to revert to all the emails from Separation Science which is holding a conference at Singapore this July.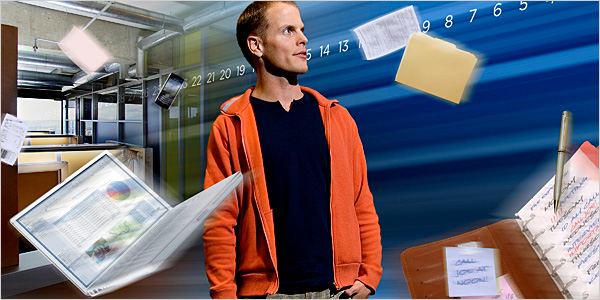 (Credit: The New York Times)
In today's times, it makes sense to be connected even if for just an hour or two a day and to sort things out, so that one can start work on getting back, without being swamped with all of it at once. Ideally, I would consider it with complete lack of electronic access, but then it just does not work. So, for me, holidays do not suffice the purpose in any regard. No access to television channels in India changes a lot. I could try and use the internet to stay abreast of things, but that would mean spending even more time in front of the computer, which makes no sense when I am on a vacation.
During the holidays, the global channels continued to pour so much information that made it so difficult to completely rewind from the already exhausted brains. The neurons refuse to take anything good, useful or even breaking news.
I was overwhelmed with the national news ranging from Kate-William wedding on TLC (quite a boring watch), Air India strike, political goons blackening the faces of the Roadies anchors (For those who do not know, Roadies is a popular youth show on MTV India and infamous for its abusive language), one more Chief Minister died in Arunachal Pradesh to the Indian stock market that is not doing too well. And from the international perspective, I got to know that Osama has been killed. Well, so what? I am not interested. Further, why the constant deep-down analysis by the news channels with their blatant anchors ranting and showing the same snippets every time.
The front pages of all the newspapers tomorrow could as well have been the front pages of the newspapers last Sunday when I left for the trip. Till then I guess, I do not need a holiday, but a break from too much information.