Massive amounts of erupting lava have connected with the fall of civilizations, the destruction of supercontinents and dramatic changes in climate and ecosystems.
Since August 31st, Bárðarbunga volcano in central Iceland has been spewing spectacular amounts of lava. A new paper finds that high mantle temperatures miles beneath the Earth's surface are essential for generating such large amounts of magma - and Bárðarbunga volcano lies directly above the hottest portion of the North Atlantic mantle plume.
"From time to time the Earth's mantle belches out huge quantities of magma on a scale unlike anything witnessed in historic times," says Charles Lesher, a visiting professor at Aarhus University. "These events provide unique windows into the internal working of our planet."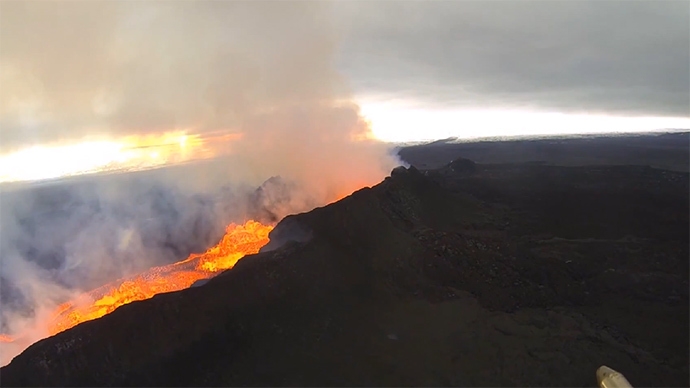 Source: youtube.com @gisligisla1973
Such fiery events have produced large igneous provinces throughout Earth's history. They are often attributed to upwelling of hot, deeply sourced mantle material, or "mantle plumes."
Recent models have dismissed the role of mantle plumes in the formation of large igneous provinces, ascribing their origin instead to chemical anomalies in the shallow mantle.
Based on the volcanic record in and around Iceland over the last 56 million years and numerical modeling, Brown and Lesher show that high mantle temperatures are essential for generating the large magma volumes that gave rise to the North Atlantic large igneous provinces bordering Greenland and northern Europe.
Their findings further substantiate the critical role of mantle plumes in forming large igneous provinces.
"Our work offers new tools to constrain the physical and chemical conditions in the mantle responsible for large igneous provinces," Brown said. "There's little doubt that the mantle is composed of different types of chemical compounds, but this is not the dominant factor. Rather, locally high mantle temperatures are the key ingredient."