You aren't really somebody unless you have an aircraft carrier named after you and 40th US president Ronald Reagan has just that.   Now he will have a Miss California on board too; in this case, Carrie Prejean, who's arguably the most famous beauty queen who didn't actually win, thanks to openly gay judge Perez Hilton making no secret of the fact that her personal opinions on gay marriage had no place in any contest he took part in unless they agreed with his, thus making her a darling of both Christians and conservatives in the process.
Prejean will tour the USS Ronald Reagan Carrier Strike Group (CSG) 7, departing from San Diego to begin a regularly scheduled Western Pacific deployment with her sister, Christine.  Prejean will be the guest of Michael Reagan, author and eldest son of former President Reagan, and the U.S. Navy.   Reagan will meet the Prejeans in San Diego this afternoon and personally escort them aboard the aircraft carrier.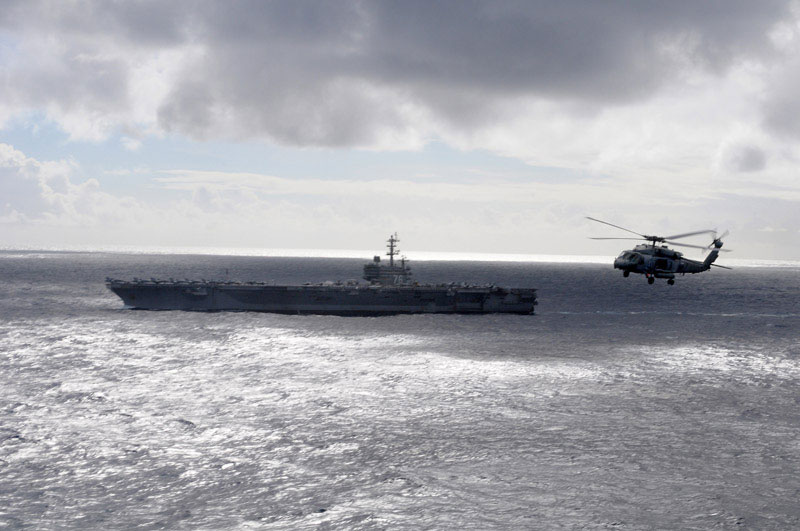 An HH-60H Sea Hawk assigned to the "Black Knights" of Helicopter Anti-Submarine Squadron (HS) 4 fly's past the Nimitz-class aircraft carrier USS Ronald Reagan (CVN 76) in preparation for an air power demonstration for more than 1,200 friends and family members on board. Ronald Reagan is conducting a Tiger Cruise which allows Sailors to bring aboard friends and family to experience life on board an active U.S. Navy ship. Ronald Reagan is on a routine deployment currently operating in the 3rd Fleet area of responsibility. U.S. Navy photo by Mass Communication Specialist 2nd Class Joseph M. Buliava.(Released)
Miss California USA will tour the Reagan and greet the 5,000 sailor and marines who are headed to sea for deployment. "I am very proud of Miss California USA for accepting my invitation to visit the troops aboard the Reagan, only a few days after Memorial Day," said Reagan. "The men and women aboard the Reagan will deeply appreciate the time she spends with them and her support."
"It is such a distinct honor to be invited to greet our troops on the USS Ronald Reagan and spend time with the men and women who are being deployed to defend our great nation," said Miss California USA Carrie Prejean. "I will keep them in my thoughts and pray that the motto of 'Peace through Strength' is one that they will carry with them each day until their safe return."
Carrie Prejean, Miss California.   Your future Fox News reporter.
Ronald Reagan is the flagship of CSG 7 and the ninth of 10 Nimitz-class nuclear-powered aircraft carriers. The ship is named for the 40th president and the ship's motto, "Peace through Strength," was a recurring theme during the Reagan presidency. 
"Our troops deserve our utmost respect and admiration for their hard work and dedication to freedom. I appreciate Miss California USA's generosity of time and support for America's men and women in uniform during these perilous and uncertain times," said Reagan, who serves as president of the Reagan Legacy Foundation.