Tropical Storm Maria is moving away from Japan and strong wind shear is pushing its rainfall east of the storm's center,
with no areas of heavy rain remaining in the tropical cyclone.
The low-level center of the storm is now exposed and a wind shear greater than 30 knots (34.5 mph) continues to further weaken the storm.
Wind shear is a critical factor in hurricane formation and destruction, primarily in the vertical direction from the surface to the top of the troposphere, the region of the atmosphere that our active weather is confined to, about 40,000 feet altitude.
Tropical cyclones are heat engines powered by the release of latent heat when water vapor condenses into liquid water and wind shear hurts tropical cyclones by removing the heat and moisture they need from the area near their center. See more at Weather Underground.

At 4:45 a.m. EDT, NASA's Tropical Rainfall Measuring Mission (TRMM) satellite saw that rain associated with Tropical Storm Maria was limited to the east of the storm's center. Rainfall was also light to moderate, falling at a rate between .78 to 1.57 inches/20 to 40 mm per hour. By
11 a.m. EDT, Maria's maximum sustained winds were down to 35 knots (~40 mph) and weakening. It was located near 31.9 North and 155.6 East, about 780 nautical miles east of Tokyo, Japan. It was moving to the east and into the open waters of the northern Pacific at a speed of 14 knots (16 mph).
By tomorrow, the combination of the strong wind shear with cooler sea surface temperatures are expected to make Maria dissipate.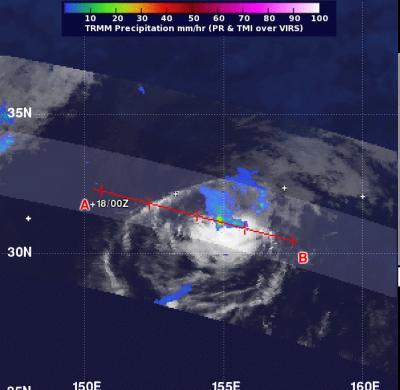 On Oct. 18 at 0845 UTC (4:45 a.m. EDT), NASA's TRMM satellite saw that rain associated with Tropical Storm Maria was limited to east of the storm's center, and was light to moderate (pictured in green and blue) and falling at a rate between .78 to 1.57 inches/20 to 40 mm per hour. Credit: SSAI/NASA, Hal Pierce