Air Asia Fuselage Found - Photos
The fuselage of
Air Asia 8501
has been found. Underwater photos taken by a ROV were posted on Facebook by Defence Minister Ng Eng Hen, reposted below.
<< Singapore Navy ship locates fuselage of AirAsia QZ8501 >>

Chief of Navy RADM Lai Chung Han just informed me that one of SAF's ships, the MV Swift Rescue, has located the fuselage of the AirAsia plane in the Java Sea. Images taken by the Remotely Operated Vehicle (ROV) show part of the wing and words on the fuselage. We have informed BASARNAS, the Indonesian search authority who can now begin recovery operations. The accident is a tragic event resulting in the loss of many lives. I hope that with the fuselage located, some form of closure can come to the families of the victims to ease their grief. I would also like to thank all our SAF servicemen who have given this mission their all to help the Indonesians recover the flight data and cockpit voice recorders, and the fuselage. Especially to the crew of MV Swift Rescue, you never gave up - well done.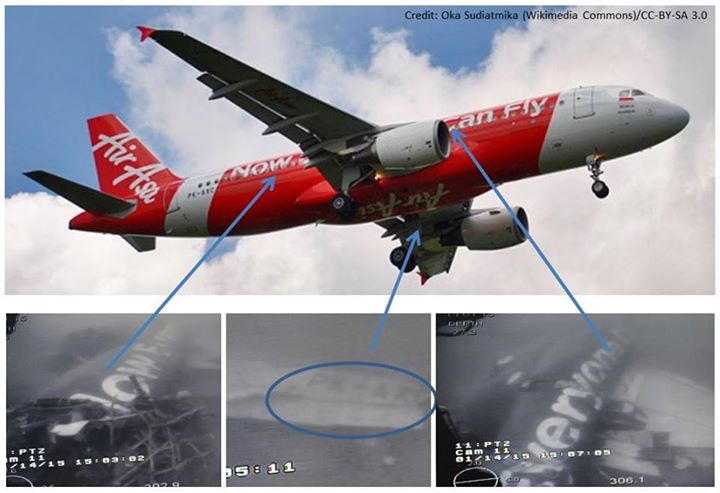 Infographic identifies parts seen in underwater photos.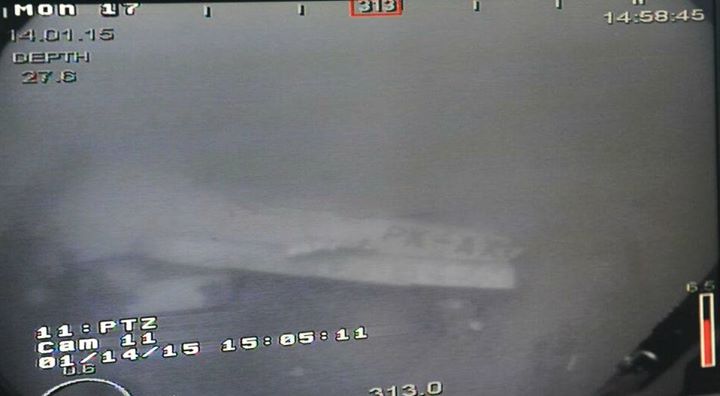 Wing
Rear fuselage
Forward fuselage
The position of the fuselage has been marked. It is hoped that when the fuselage is raised more bodies will be found. It was a Singapore Navy ship, MV Swift Rescue, which found this main section of the AirAsia plane. The loss of so many lives is tragic, but the degree of cooperation between so many countries and the risks taken by divers in the search for wreckage and bodies is an inspiration to the world.
The tail section has been cut up because it was too big to fit through the door of the warehouse to which it was taken. Photos were taken underwater and during and after retrieval so that investigators can distinguish between damage due to the accident and damage due to hauling the wreckage over the stern of the anchor recovery vessel. The places to be cut were marked with black paint and photographed. More photos were taken as the tail section was cut into three pieces.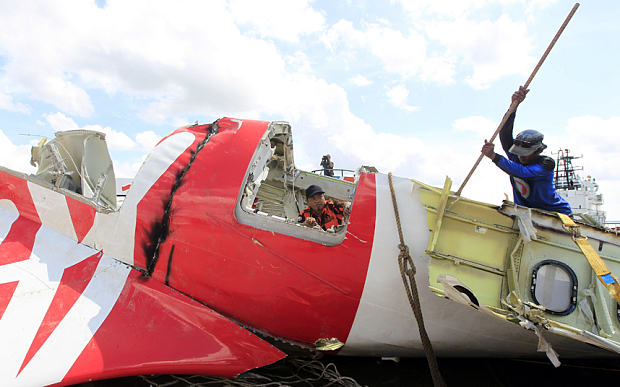 Tail section in process of being cut.Further reading
AirAsia 8501 - Both Black Boxes With NTSC
Air Asia 8501 - Some Factual Information
- includes translation of
AIRASIA QZ 8501 ACCIDENT
Meteorological Analysis
By: Prof. Edvin Aidrian, Ferdika Proverbs, Jose Rizal, Kadarsah
Ocean Currents in the South Asian Archipelago
AirAsia QZ8501 No Explosion
Air Asia flight 8501 did not
explode
: it
burst open
on impact with the water.
.