MODIS Rapidfire For Citizen Scientists - #1

A brief explanation of the NASA/GSFC MODIS Rapid Response System -
Rapidfire
- together with a Howto for citizen scientists.
National Aeronautics and Space Administration / Goddard Space Flight Center Moderate Resolution Imaging Spectroradiometer is a bit of a mouthful, so I'll just refer to it as Rapidfire from here on, if you don't mind.
The MODIS Rapid Response System was developed to provide daily satellite images of the Earth's landmasses in near real time. True-color, photo-like imagery and false-color imagery are available within a few hours of being collected, making the system a valuable resource ...

...

All the images that appear on our site are in the public domain and can be freely used and reproduced for any purpose. Please credit: "NASA/GSFC, MODIS Rapid Response." If publishing online, please link to the Rapid Response website. For more information on use and credit, contact the MODIS Rapid Response Outreach Coordinator.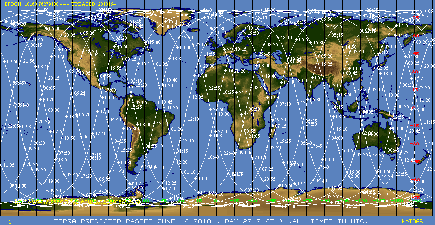 The MODIS Rapid Response System, or Rapidfire, provides satellite images in near real time via a free, open access web site. Two, satellites Aqua and Terra, are in different polar orbits. They continually map the Earth in daylight using multiple bands. Three of those bands - 1,4,3 (670 nm: 565 nm: 479 nm) - are combined to produce near true color images in resolutions of 4, 2, 1 0.5 and 0.25 kilometers per pixel. Other band combinations emphasize land, vegetation, snow and ice, etc. The RGB images directly available for download are adjusted for image integrity. Other images emphasise scientific integrity.
We make our imagery directly from the MODIS L1B data (the calibrated, geolocated radiances), not the standard MODIS surface reflectance product (MOD09). Our images are based on custom corrected reflectance code that has been developed with the specific aim of maintaining image integrity, as opposed to the standard MODIS surface reflectance product, which was developed with scientific integrity as the primary objective. For example, we do not use an atmospheric correction. In some cases, our images undergo additional hand-tweaking to enhance their appearance; for example, we may apply different color stretchs depending on the type of phenomenon (e.g. dust, phytoplankton bloom, clouds) we are highlighting.

A Rapidfire Howto
From the Rapidfire home page you can readily access orbital images or prepared images. The prepared image sets include:
Imagery of the oil in the Gulf of Mexico
Selected Rapidfire images are posted at:
http://earthobservatory.nasa.gov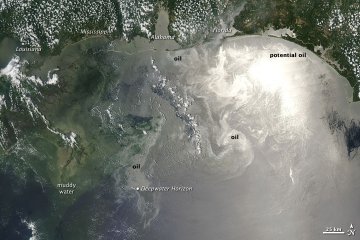 Near-real-time production
Global image sets from each satellite, timed and dated, with clickable thumbnails.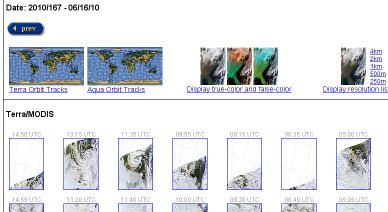 Near-real-time subsets
Image subsets automatically generated in near-real-time for AERONET, FAS, FIRMS and other users.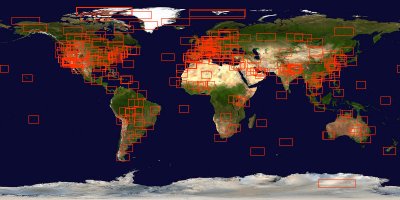 Image Gallery
A gallery of images which have been selected as image of the day.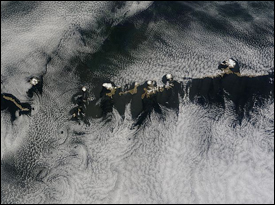 Antarctica mosaic
An image of Antarctica made up of selected areas from the relevant day's images.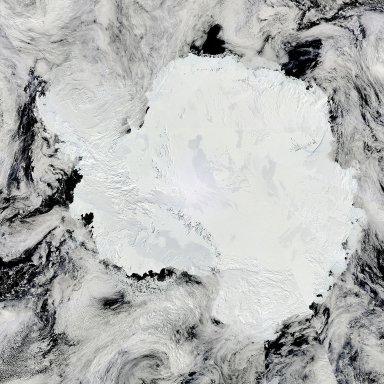 Arctic mosaic
An image of the Arctic regions made up of selected areas from the day's images.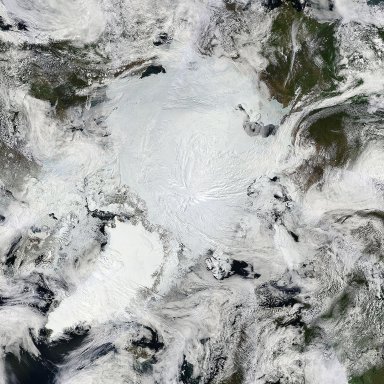 Fire location data
and
Global fire maps
... fire maps accumulates the locations of the fires detected by MODIS on board the Terra and Aqua satellites over a 10-day period. Each colored dot indicates a location where MODIS detected at least one fire during the compositing period. Color ranges from red where the fire count is low to yellow where number of fires is large.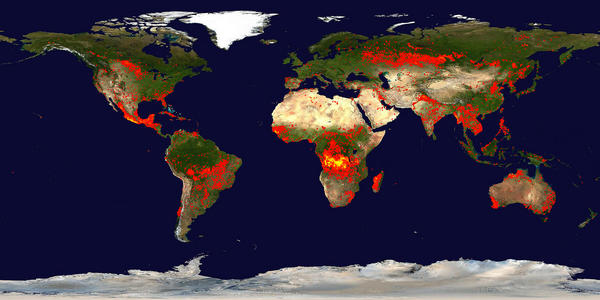 .
False color imagery
Bands are combined in various ways to give various false color images. These help to discriminate between ice, water, land, vegetation, cloud etc. in images.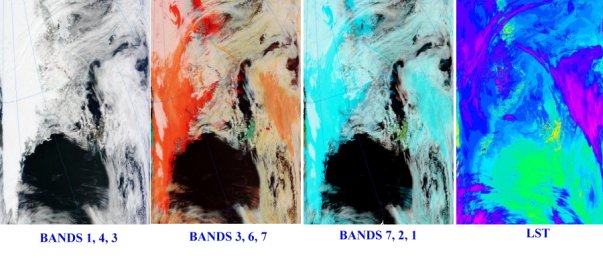 Images from Terra, 06/16/10 13:25 UTC
Part 2
will contain hints and tips for using the Rapidfire images, using the Arctic mosaic as an example.
A link will be posted here as soon as the next part is ready.
Edit
: Part 2 is now posted:
MODIS Rapidfire For Citizen Scientists - #2
Credit:

All images courtesy the U.S. taxpayer and NASA/GSFC, MODIS Rapid Response
http://rapidfire.sci.gsfc.nasa.gov/